If you're rolling millions a year, you can't be hitting the alps with regular skis you'd lease from the pro shop, can you? I mean, surely you want your skis to match your financial prowess. Well, I guess not everyone who's reach will be into such indulgence, however, if you do, Foil Skis may something just right for you. As you may have already noticed, Foil Skis ain't no ordinary skis; the skis you see here are part of the outfit's latest bespoke skis and accessories unveiled last year. All told, four creations were introduced, namely, Oro-Nero, Rossastro, Blanco and Moca.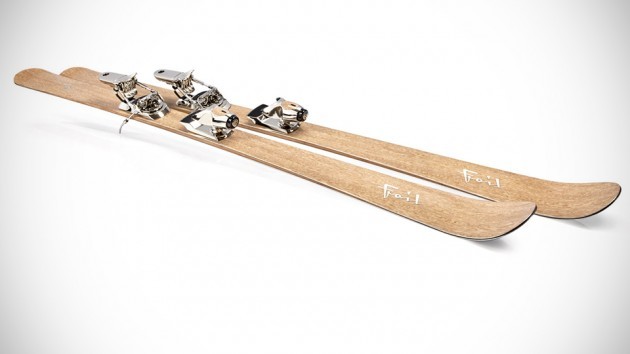 As you might have guessed, the wood used on these skis are as luxurious and exquisite as one can put on the snow. In fact, Rossastro is of illustrious Mahogany, while Blanco and Moca are crafted from Blond and Dark African Rosewood, respectively, and the Oro-Nero has wood that hails from, wait for this… 8000-year-old Bog Oak! Well, that surely would go well with environmentalist, will it?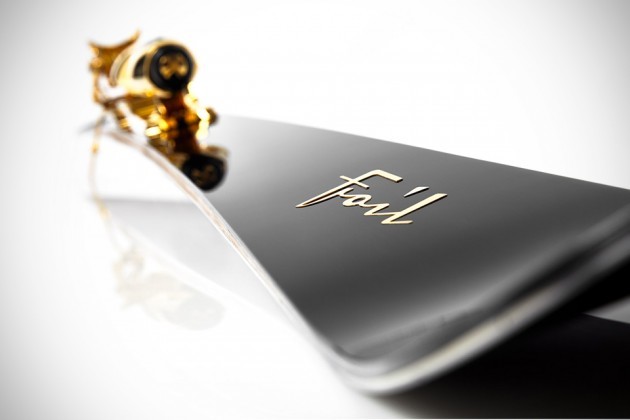 Anyways, two ski styling is being offered, the Classico, an all-mountain ski and the Riserva, a slalom ski. These skis boast custom, high performance pivot bindings and are offered in a variety of finishes, including the less ostentatious brushed aluminum, nickel-plated, platinum-plated, or if you prefer, in 14K gold-plating as seen in the featured image, paired to the Oro-Nero. Like many bespoke luxury goods, Foil's lavish snow sports gear is sold directly to end users and each ski is fully customized to the buyer's unique specifications and characteristics.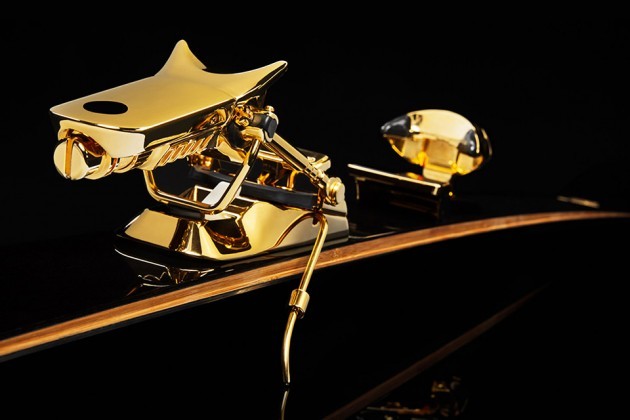 In addition to the jaw-dropping beautiful crafted skis, each Foil ski package also includes hand-stitched poles and a bespoke full-grain leather travel bag. And oh, did we mention that the skis will also sport your initials? Yup. It does and it is engraved onto a medallion inset near the tail of the skis and the leather travel also gets the same treatment too – just so that everyone knows they are yours.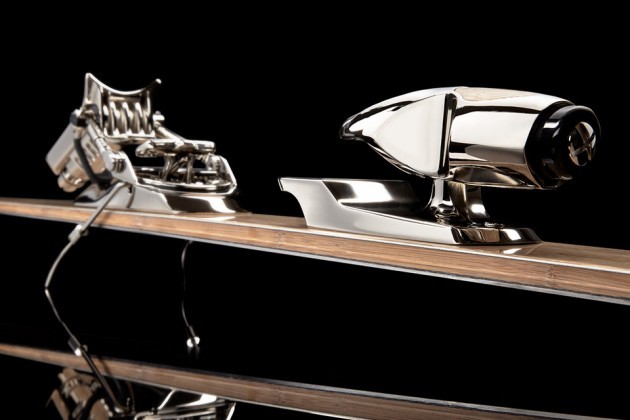 Only 300 pairs are made each year, so you'd be assure of the quality and also guarantee the "highest standard of direct communication" between your good self and Foil. Makes sense. You can't expect them to listen to your every needs if they are busy mass producing skis, can you?
So how much it would hurt your bank for such opulence? We don't know. Apparently, the stickers are not indicated on Foil's website. We tried to dig further, but it requires us to log-in to 'purchase'. However, we read that it cost for a cool $50K for the entire package, though I am sure skis made of 8000-year-old tree with gold-plated bindings will certainly cost more.