Can you imagine a handset maker making drones? Nope we can't, but our opinions will not affect China handset maker, OnePlus, from embarking on a prank that says they do and even setup an elaborate web page, detailing the remote control toy "features" and capability, you know, to be more convincing. The quadcopter in question is called DR-1. It was meant to be an April Fools' Day joke and the aircraft supposedly culminates advanced drone technology, including "advanced 6-axis gyroscopic stabilization system", QuickCharge technology and more. The firm even stacked the DR-1 up against proven drones like the Bebop, DJI Inspire 1 and Phantom 2 Vision Plus. While everything seems to be in order, it turns out to be a prank product pitch.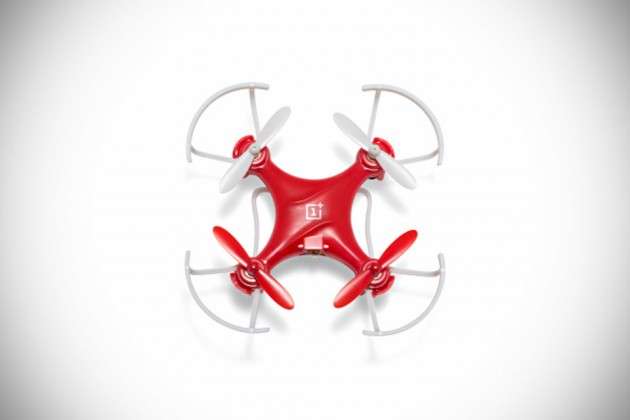 Not to be belittle the outfit's efforts, we thought it is not quite a prank, prank. If you know what I mean. Cos' at the end of the product pitch, there is a plot twist. You will be greeted with a message that says this is an April Fools' Day joke, but then comes along a statement that they actually has prepared limited quantities of the DR-1 for sale – complete with a "BUY" button. So you thought the April Fool's Day joke have yet to end, right? Nope. It did. It turns out that the DR-1 is actually up for grab, albeit in an unknown number of "limited quantities". At this point, we are not sure what to make of this prank. Was it a prank or was it not a prank? But we can actually buy it, it means it is for real, right? Apparently, so. Personally, I did add it to the cart and when I attempt to check out, I was asked to log-in and so, I guess it is a real-deal.
As far as the craft is concerned, it is super tiny. It measures a minuscule 70mm x 28mm and weighs around 12.5g. Spec-wise, its four motors are powered by a 3.7V100mAh lithium polymer battery that offers up to 8 minutes of flight time per 20 minutes charge. Despite its size, it managed to cramp in a set of ultra bright orientation LED and it is kind of acrobatic-friendly. And the price? A modest $19.99. Scroll down for the product teaser trailer.