if the traditional cylindrical (or even squarish) water bottles have been stopping you from bringing drinking water when you hit the road, then we think Memobottle water bottles might change your mind. traditional cylindrical shape water bottles work fine with backpacks, sport bags and all, but we can't say the same for laptop or messenger bags which are usually narrower or flatter in design. in such bags, a round drink containers really create quite a bulge to the bag, if it even fits at all. Memobottle here provides the ultimate solution that may have irks some of us by having the bottle in paper sizes, ranging from A5 to Letter size, thus allowing them be slipped easily into a laptop bag, along side with your notebook and laptop.
the flatten shape of Memobottle is about an inch thick, with the smallest of the collection, the A5 bottle, holding up to 750ml of water which is a little more than a typical small bottle you might purchase in your local convenience store. special considerations were given to the thickness of the bottle's walls so that it won't be a ticking water bomb inside your bag, which should give you a peace of mind when having it alongside with electronics or documents. the only hurdle is, adapting to drink from a bottle with such an usual shape. after all, mankind have accustomed ourselves to holding round bottles. if you need a little gripping help, just drop a little more money and grab yourself a wool felt or leather sleeve that will offer better grasp on this usually shape water bottle.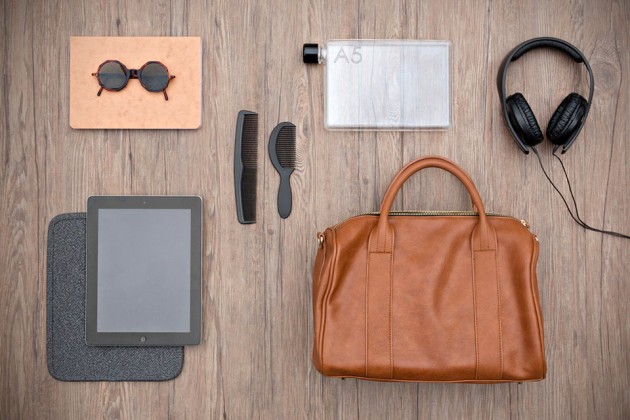 apart from solving the bulging issue, the invention of the Memobottle has a larger implication too. it aims to encourage, or rather, discourage the use of single-use bottles such as mineral water bottles, which is also a contributor to piling waste that's quickly filling up the landfills and the creation of single-use bottles also contributes to inefficient use of energy and resources used to manufacturer. with the Memobottle, you only need one bottle and it is totally reusable. it is made from BPA-free Tritan, so you can be sure it is perfectly safe for drinking water and it is totally dishwasher-safe too.
it looks like Memobottle might be the change people has been looking for, as proven by the overwhelming reception on Kickstarter, which has garnered over 5,000 backers with over 1,500 percent in funding. the campaign has five more days to go and during this time, you can pre-order the Memobottle for $23 AUD and up (about US$20 and up). the optional felt or leather sleeve will cost an additional 17 bucks (around US$15).