It's no secret we are completely obsessed with style (disclaimer: we are not stylish, at least not in our own opinions) and when we come across a gadget that's not only functional but oozes with style, you can be sure it will be here. The Modern Walnut Boombox by Chicago-based The HiFi Case is one such example. Just look at the walnut case, how can anyone not love it? Said to be inspired by the golden age of audio "where high-end consumer electronics met MCM style and sensibility," the Modern Walnut Boombox is designed for the old schoolers who won't shun a little dose of convenience offered by modern tech and such tech is none other than wireless audio streaming made possible by Bluetooth 4.0 technology with aptX.
Audio delivery is provided by a pair of 5-inch aluminum magnesium drivers and fabric dome tweeters, while a 50W class D amplifier gives the setup the omph necessary for a party anywhere for up to 10 hours each time. Also included is a 3.5mm stereo input, in case your source happens to lack this wonderful technology. All the electronics are fitted inside an alluring handmade walnut enclosure and finished off with durable vegan leather handle for the added style statement and also, of course, for ease of portability. But like many stylish and functional product, the Modern Walnut Boombox is not exactly cheap. Expect this handmade in America, 18 x 12 x 7 inch boombox to run you back at a hefty $695. Watt for watt, it is no doubt a pricey gadget, but then again, you can't really put a price on style, can you? (we can't speak for everyone, though).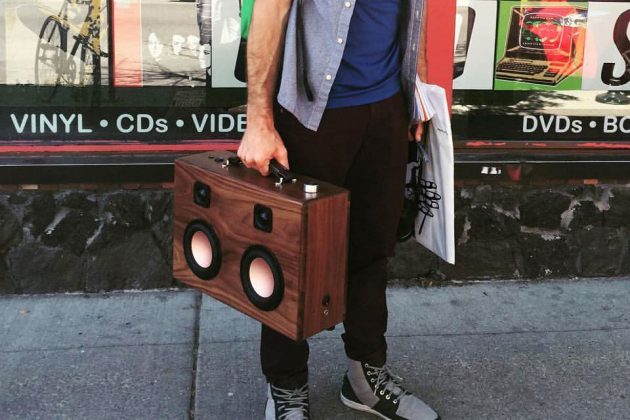 submitted via TIP US page.