Remember LG G5, the world's first commercially available modular smartphone? Well, Motorola has its own iteration too, called Moto Mods (part of the Moto Z family announced) and the Lenovo-owned cellphone maker is referring it to as a transforming phone, not modular, but it is essentially the same concept. With the new Moto Mods, along with the Moto Z Droid and Moto Z Droid Force smartphones, Motorola is proclaiming that it is "taking a stand against incremental innovation in the premium smartphone category." Well, we will see about that.
Moto Mods Transforming Smartphone


First, it is the Moto Mods, a smartphone that unlike LG's, allow modularity of the whole of its back. The back can be switched out for a projector module capable of projecting a 70-inch image, a party maker that lets Moto Mods reproduces audio through JBL speakers, and a Power Pack that provides up to 22 hours of additional battery life to the device. Speaking of power, the device itself comes standard with a 2,600 mAh battery, good for 30 hours of "mixed usage." In the tradition of Motorola, there's also a variety of backplates, ranging from real wood to leather to pattern fabric, to suit your style. The module of the Moto Mods connect to the main device though high-powered magnets and Motorola promised that the "Moto Mods developed today are designed to work with future generations of Moto Z phones."
Clockwork is powered by a Qualcomm Snapdragon 820 chip, clocking in at 2.2GHz, while graphics duty is handled by Adreno 530. Memory comes in at 4GB and it gets a choice of 32 or 64GB onboard storage, expandable up to a cool 2TB with the use of microSD card. Other worthy mentions include a 5.5-inch AMOLED display packing 2,560 x 1,440 resolution, which works out to a whopping 535ppi, Corning Gorilla Glass, 4G LTE Cat 9 radio, water repelling nano-coating, a 13MP f1.8 aperture with OIS and laser autofocus, CCT flash with dual LEDs, a 5MP f2.2 wide angle lens front-facing camera, USB-C port, Bluetooth 4.1 LE, dual-band wireless a/b/g/n/ac, front ported loudspeaker, 4-mic setup, 4K videoing capability, A-GPs, and the usual serving of sensors. Moto Z is expected to be available this Summer at and yet to be disclosed price.
Moto Z Droid Smartphone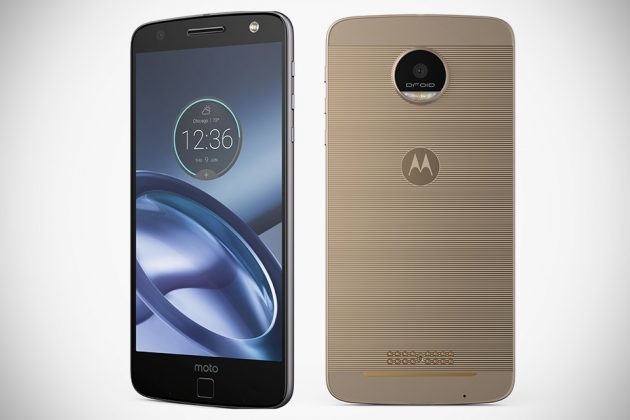 Also announced is the Moto Z Droid, a device billed as the world's thinnest premium smartphone. The Moto Z Droid shares pretty much the same specifications as the Moto Mods, except that it is clad in military aircraft-grade aluminum and stainless steel chassis. This means it gets a 5.5-inch QHD AMOLED display and is equipped with a Qualcomm Snapdragon 820 chip, 4GB of RAM, up to 64GB storage – expandable up to a whopping 2TB via microSD card, a 13MP laser focus main shooter with optical image stabilization, a 5MP wide-angle lens front-facing camera, a water-repelling construction, and fingerprint reader.
Moto Z Droid gets a battery pack that boast up to 30 hours of battery life and supports Motorola's TurboPower that offers up 8 hours of power with just 15 minutes charging. Moto Z Droid will be available, in the U.S., this Summer through Verizon at Verizon stores, retailers including the likes of Best Buy, as well as on moto.com. Moto Z itself will also be available unlocked on Motorola website and select retailers this fall. Pricing is yet to be announced though.
Moto Z Droid Force Shatterproof Smartphone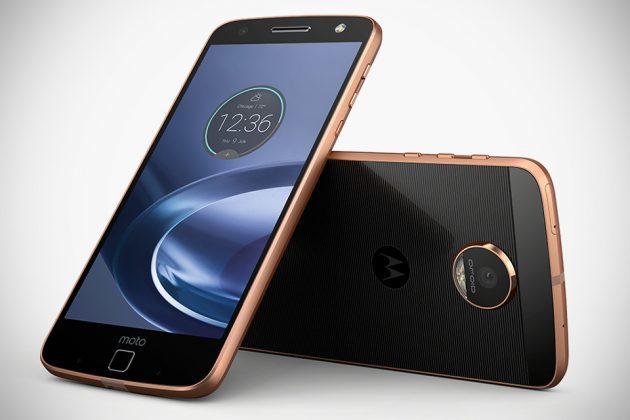 And then there's the Moto Z Droid Force, a super sleek device outfitted with the second-generation Moto ShatterShield technology which, in Motorola's own words, "guaranteeing the display won't crack or shatter in case of a drop." The Moto Z Droid Force also shares much of the specifications with the Moto Mods and Moto Z Droid, which means a 5.5-inch QHD display, 2.2GHz quadcore Qualcomm Snapdragon 820 processor, 4GB RAM, up to 64GB storage – expandable up to 2TB with microSD card, water-repelling construction et cetera.
It has a different battery pack though, a 3,500 mAh cell that provides up to 40 hours of "mixed usage" and TurboPower support that gives up to 15 hours of use with 15 minutes of charging. Oh wait. Imaging department is also slightly different; in fact, it is better by specs with the Force getting a 21MP f1.8 aperture camera with OIS, laser and phase detection AF. Though the front is also the same 5MP item. 4K video at 30fps also comes as standard and so is slow-mo and video HDR. Moto Z Droid Force will also be available soon, this summer, through the same outlets as the Moto Z Droid. Pricing is unknown, however.