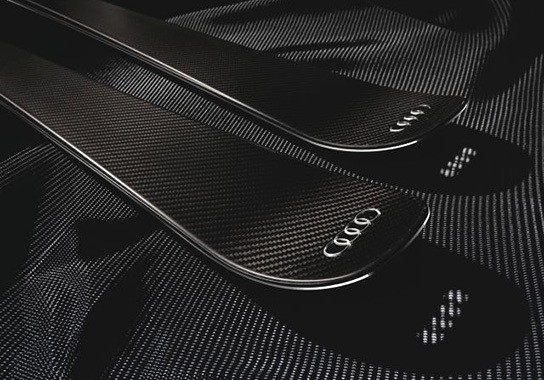 (image credit: Audi)
Hublot isn't the only non-sports related firm to exhibit a beautiful snow-related equipment in the recent World Ski Championships in Garmisch-Partenkirchen. Audi has a pair of beautiful crafted skis to show off, and skiers will get a chance to try out these prototypes skis too. dubbed the Audi Carbon Ski concept, the skis are designed and developed by Audi Concept Design in collaboration with ski manufacturing specialist, Head and the German Ski Association.
beyond its carbon fiber exterior lies a wooden core, surrounded by layers of aluminum and titanium and the result is a pair of ultra light weight skis that weighs just 960 grams per ski. with this design, the skis will flex on moguls, achieving maximum grip but not twisting on icy patches. this enables the skis' steel edges to maintain constant contact with the icy surface throughout its entire length. the ultra light weight is also said to result in a highly maneuverable skis.
this pair of concept could be a reality by next winter, though there's no indication on its pricing but we suspect it will be beyond the reach of many. from the look of the skis, we all know it will goes straight into the luxury goods category (read: pricey). however, if it becomes a reality and you eventually get yourself a pair – then you can proudly proclaim your Audi is 100% zero emission (but it's not a car, duh!)
via Gizmag