It sucks to be stuck to the desk all day, especially if you are those who literally can't stop moving. I mean, lets get real. Moving your hands and fingers won't be enough to satisfy your need to actually get up and move. But thankfully, that was before Officiser FR by CTL came into existence. With Officiser, your need to constantly move your lower limbs will be address. Think of it as the fidget gadget for your legs which you can keep your legs busy.
I will be honest. I am totally digging the idea. I think it will help me to keep my legs off the chair (like I am doing now). It will probably stop my balls getting squeeze by my thighs when I crossed my legs too. But what exactly is the Officiser FR? Well, it is an active footrest and the world's first to feature multi-angle ankle pivoting with gliding to afford a range of free movement under your desk. Officiser lets you walk, jog, cycle, ski, surf, snowboard, skateboard and even water ski, all without having to get off the chair and missing a beat from what you are supposed to do.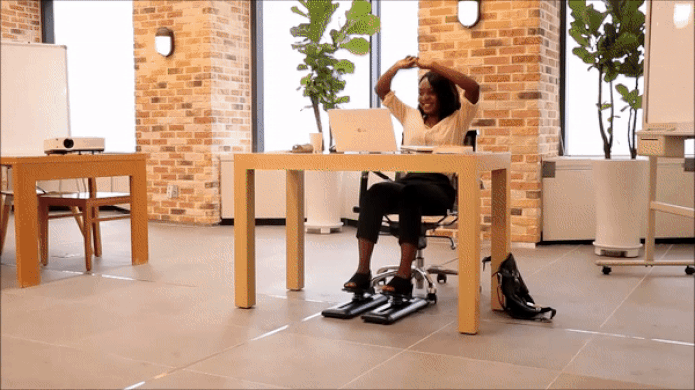 Your boss need the report by 5? Well, no worries. Keeping walking or whatever you fancy and you are still going to get the report done. And when you are tired, Officiser is also a dutiful stationary footrest. It has a removable sole, which you can swap for a massage pad to relax your foot, plus there is secret space under the foot pad for your fitness tracker so all the movements will be logged. Furthermore, you can custom adjust the height, width, as well as the tension to suit your need.
CTL has taken Officiser FR to Indiegogo where it aims to collect at least $10K in funding to get it into production. If you love what you see, you may want to consider making a pledge to help the product see the light of production. It is not cheap, though. A classic pack which comes with one Officiser (not one pair) and footrest will set you back at no less than $86. Prices may run up to as much as 184 bucks for the entire smorgasbord which includes a pair of Officiser and two footrests, plus a transboard add-on. See it in action in the video below.
Images courtesy of Officiser.
Submitted via TIP US Page.