If restoration shows are porn to you and you also happen to be a huge Back to the Future, then we bet you will be thrilled that Universal Studios has collaborated with a bunch of BTTF fans with "knowledge, passion and the obsessive attention to detail" to save the original 1985 DeLorean Time Machine. Yes. That was Doc's ride that took Marty McFly back to the past, into the future, and into the gunslinger era and they are in the process of making a documentary covering every aspect of the restoration work like any great restoration shows do. Restoration-loving, cable fanatics will know what we are talking about. The elements familiar to reality shows should be expected, which includes success, setbacks and possibly, some doses of resentment in the team (though we are not sure of the latter. It's speculation on our part).
So why the restoration? Well, apparently, the original time traveling ride was pretty beat up, thanks to the harsh weather and "souvenir" hunters who came along and pulled some stuff from it (man, where did they park this thing?), and someone, or in this case, a team comprising of Bob Gale (co-writer and producer of BTTF trilogy), Universal Studios, and a team of dedicated fans and "Time Machine builders", decided to give it a new breath of life with exacting accuracy – right down to the color of the wires and also including the fact that it still won't be able to time travel or fly. But those are expected, isn't it? The film is being produced by Steve Concotelli who have also inducted himself into the restoration team, spending over a year capturing every moment of the restoration process on camera.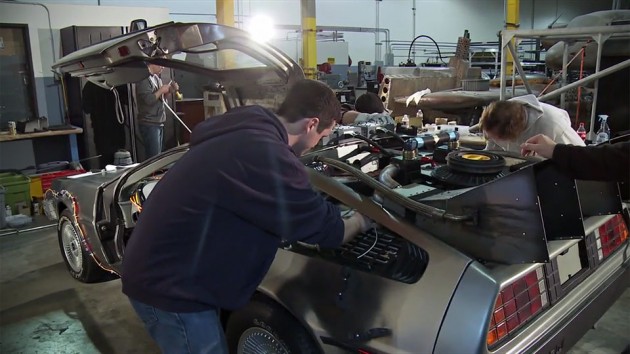 The film has already been shot and is in the process of editing, but it won't be complete without your help. Having said that, the team has taken to Kickstarter to seek financial backing required for post-production. The campaign on Kickstarter has 12 more days to go, but has since blast past its initial funding goal. Not surprising, actually, but if anything, we were expecting an even more overwhelming response. The project is offering some pretty interesting perks for backers, including digital download (in HD, naturally) of the documentary, documentary on DVD or Bluray, glow-in-the-dark "radioactive patch" (as seen on Doc's Plutonium Case), and Out of Time license plate – just to name a few. All proceed will be used to fund the post-production that is targeted for October delivery to backers. Keep going for a pitch video and also a trailer of this upcoming film.