It seem like just yesterday when Polaris debuted the 2015 Snowmobile lineup featuring the AXYS chassis. Yep. It is the time of the year again, this time, we are looking at the 2016 Snowmobile lineup. As before, the new lineup features Polaris' AXYS chassis for improved rider-balanced control and response. In all, there are twenty sleds built on the AXYS platform, including RMK, Rush and Switchback models. In addition to those, there are four new sleds, namely 800SKS 155, 800 Rush Pro-S "Night Lightning" LE, 800 Switchback Adventure and 800 Switchback Assault Terrain Dominator LE, being introduced. All told, this year's introduction sees a cool 30 models. This is also the first time AXYS platform expanded to RMK and mind you, it is not just specific models we are talking about; AXYS will be across all new RMK models.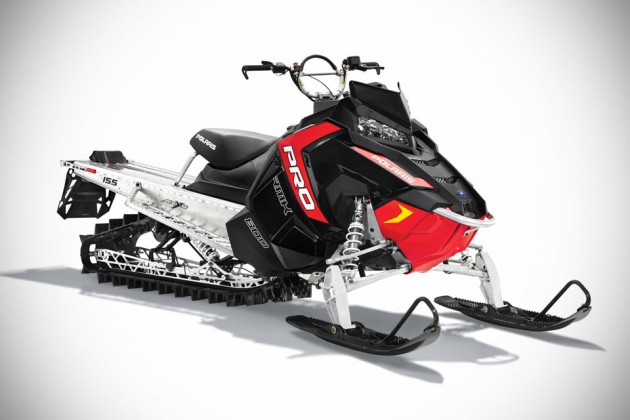 Notable mentions with regard to RMK includes raise chassis to cope with mountain riding, all-new front and rear suspension design, 800 H.O. engine – all packed into an exceedingly lightweight package of mere 408 lbs (185 kilograms). The Rush and Switchback continues with the AXYS first introduced last year. There is an all-new 800 Rush Pro-S "Night Lightning" LE that features ROX adjustable handlebar riser and Polaris exclusive Interactive Digital Display with GPS. The 800 and 600 Switchback, in particular, the Adventure models, will come outfitted with Fox IFS shock package that boasts three-position compression adjustment front shocks, as well as Fox coilover rear air shock. And then there is the Indy lineup, which kind of like the entry-level machines, suitable for snow enthusiasts across all level. There is even a model geared towards to the youth, where it sports several special safety features and efficient engine to get the young started.
If you expect yourself to be transversing over thick powdered ground, the new Widetrak is the perfect model. With 20" wide track, it promotes flotation, while an articulating rail offers smooth transition over obstacles and uneven terrains. Oh, it also gets a full complement of storage which can be found under the seat and a cargo rack to the rear. You can learn more in detail on the different models offered over at Polaris website. Check out the emotion-driven promo video after the break.