well, what do you know? it is May the 4th, which means it is Star Wars Day and it also means we feel obligated to pick out the one best Star Wars collectible worthy of the attention of any devotees of the galaxy far, far away. we searched high and low, and dug deeper than the Mariana Trench and we think this might be it: the R2-D2 Deluxe Sixth Scale Figure from Sideshow Collectibles. it may be a sixth scale, but this little guy is loaded with gadgets you'd wish they were real. it comes packed with gizmos including power charge arm, computer terminal arm, grasping arm, extending auxiliary visual imaging system, life form scanner, hidden Skywalker saber hilt with magnet tip for panel access, and our all time favorite: an articulating drink serving arm, complete with multi-tiered serving tray attachment and seven drink glasses.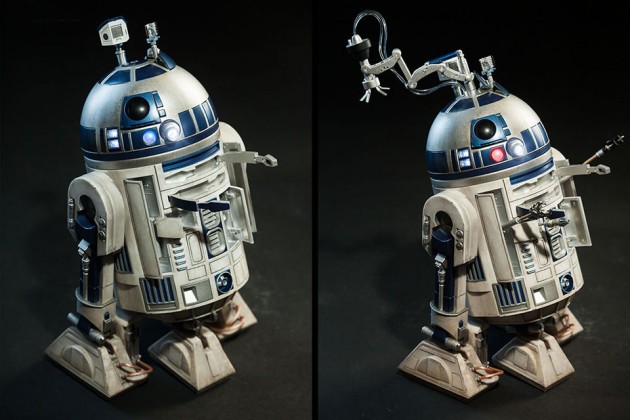 for all intents and purposes, we don't quite need an astromech to navigate the Gaia (we do have Google Map, don't we?) or disengage any locked sliding doors, but we sure could use one that can serve up some burning tequila. alas, it can't and even if it could, it is still 1/6th scale which would make the shots really tiny to be of any good. but it sure looks uber awesome, especially when displayed with all its stuff whipped out. and oh, it even has rotating dome with articulated projectors, ports and hinged panel utility access ports too, you know, for completeness' sake. for added realism, you might want to display it with the special bonus accessories like the Ben Kenobi's table and the illuminated Princess Leia transmission hologram.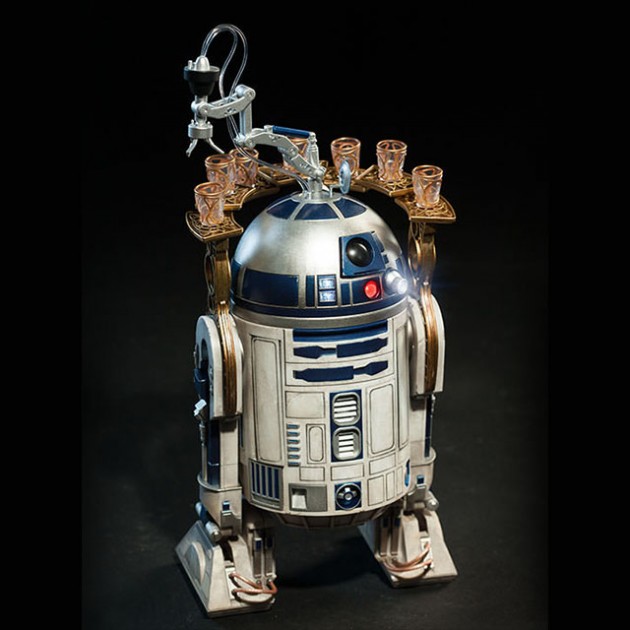 just in case you are pondering about its size, this sci-fi silverscreen darling stands 6.75″ (171mm) tall. so it is really quite small, but it does make a great companion for your work desk to fortify you position as the geek at your workplace. available for pre-order as we speak for $149.99.