as with the CES of recent years, the 2014 CES will be another showdown between Korean electronics giant, namely LG and Samsung, both whom had and will continue to take this opportunity to vie for your attention outside of their home country. for Sammy, it will be showcasing several pretty audio video gadgets next week, including the Samsung M5 Wireless Speaker System, a couple of sound bars (HW-H750 and HW-H600), the Samsung HT-H7730WM Home Entertainment System, and a new Samsung GIGA system MX-HS8500. we are pretty sure these are just tidbits with more to come as the show draws closer, but for now, we invite you to read through some of the available information we know for the individual products.
Samsung M5 Wireless Speaker System
we wouldn't say the M5 is a follow up, but more of an addition to the Shape wireless audio system family, sporting the same radical speaker styling, but in a smaller package. highlights include three drivers, remote control via Shape app, and of course, it connects to your local network through a Shape hub hooked up to your router. nothing revolutionary here, but it presents as another, hopefully more affordable, option to high-end system like SONOS. there's also a connect box that allow to turn your old analog speakers and turn them into part of system which you can control with the app too.
---
Samsung HW-H750 and HW-H600 Sound Bars
these pair of sound bars are Shape-compatible, with the H750 model offering 320W of audio reproduction and it is designed to place under your HDTV like all sound bars do and the H600, which technically can't be called 'bar' as it is more like a platform (much like the LG's sound plate and Bose's Solo TV sound system) where your TV sits directly on the bar, i mean, the platform as it delivers multi-directional 4.2 channel audio. yes. 4.2.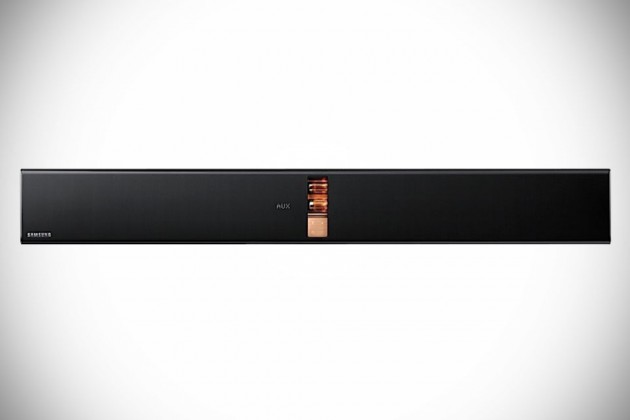 ---
Samsung HT-H7730WM Home Entertainment System
for traditionalists, you will be glad to know that 'regular' X.1 home entertainment system stills exist. if you don't mind the clutter of wires you have to deal with, you can look forward to the Samsung HT-H7730WM Home Entertainment System that is blessed with six speakers, a Blu-ray player with 4K upscaling functionality and an amplifier featuring analog vacuum tubes and digital amps technologies. thanks to the new DTS Neo: Fusion II codec, this physical 6.1 system can actually pumps out up to 9.1 channels.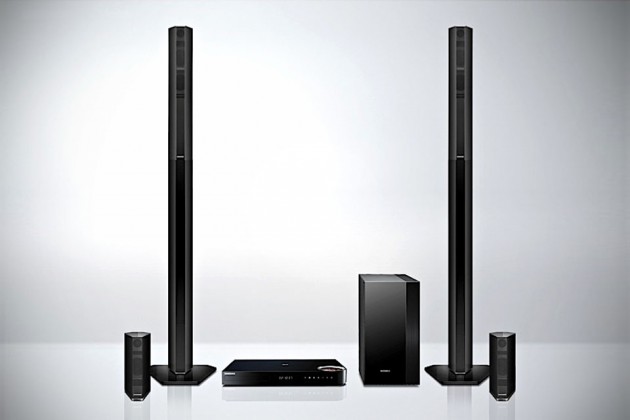 ---
Samsung MX-HS8500 GIGA System
finally, there is the Samsung MX-HS8500 GIGA System with 2,500W of power on the tab, backed by twin 15-inch subs (two subs!). 2,500W is no small business and it is the system you'd go for if you love to be hated by thy neighbors. the system is designed with wheels and a retractable handle, allowing you to lug it along to any party of your choosing. additionally, it has some pretty (more like psychedelic) visual lighting effects for that added party oomph. hey, why not? no party is a party without some funky LED light effects, isn't it? additionally, it boasts Bluetooth HiFi wireless audio streaming for streaming from the brand's compatible TVs, presumably for cinema-like movie experience.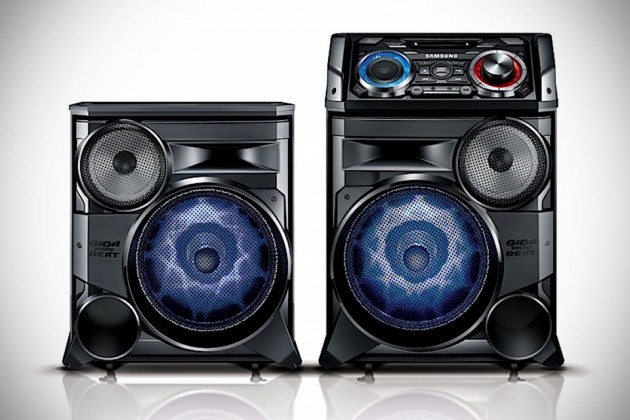 well, there you have it. the four highlights (of the many to come) which you can expect from Sammy at the 2014 CES next week. which also means two things: pricing and availability are not known and if there are any, will probably be announced next week when CES officially throws the doors open.
via Engadget