Samsung have been working some 'secret projects' from C-Lab, an innovation program that helps its employees to nature their own creative business ideas (kind of like LEGO Ideas, but for Samsung staff), which the company has chose to unveil at this year's South by Southwest (SXSW) held between March 13 and 16 at Austin, Texas. The first of the trio is Hum On!, which is an app that turns your humming into musical scores. The second project is called Waffle, a social media for collaborative content creation and finally, there's a motion headset called Entrim 4D that not only lets you experience VR, but lets you feel it.
Among the three, Hum On! is perhaps the most interesting as it allows anyone – even for a tone deaf person like me to create music. All you have to do is to hum the music and the app will turn them into melodies and even transcribing them into musical notation. You can playback to the music in the arrangement style of your choice and if you are satisfy, you can share on social media, or use them as background music in your videos. Finally, you can stop worrying about copyright infringement by those copyright hyenas. Here's the detail:
"The app utilizes analysis software to detect the pitch and duration of a user's voice, and machine learning to create a suitable accompaniment in the same way a musician considers melody and chords. Compared to similar existing programs, Hum On! is incredibly simple and user-friendly—two characteristics that make the app accessible to all."
Next is the Waffle, a social media platform that enables collaborative content creation. Personally, I am not too excited about it, but I think social fanatics will dig this. This social media platform allows your circle of friends and family to come together and jointly create content, say for example, a birthday greeting, for one of the member. Each person contributes by creating doodle, write text, or photos, which eventually form a grid-like interface. In a way, it is more 'interactive' then our current social platforms as it kind of lets people take charge of creating content and have something to take about. We are not sure if this will take off, but if you are up for it, the app is available for download on Google Play store as we speak. Perhaps, you and friends would like to have go with it?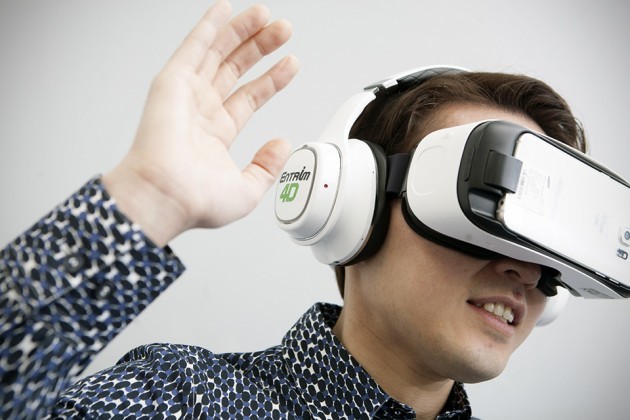 Last but not least, is the Entrim 4D VR headset which uses a combination of algorithms and Galvanic Vestibular Stimulation (GVS) to enable you to 'feel' what you see. When we said 'feel', it does not mean touching. The 'feel' here is the feeling the physical environment of the virtual world so you can feel as if you are part of the on-screen action, feeling the sense of direction and speed of movement. Samsung said, if Entrim 4D is paired to drone's FPV and using the data collected from the drone's motion sensors, Entrim 4D can even make you feel like you are actually flying.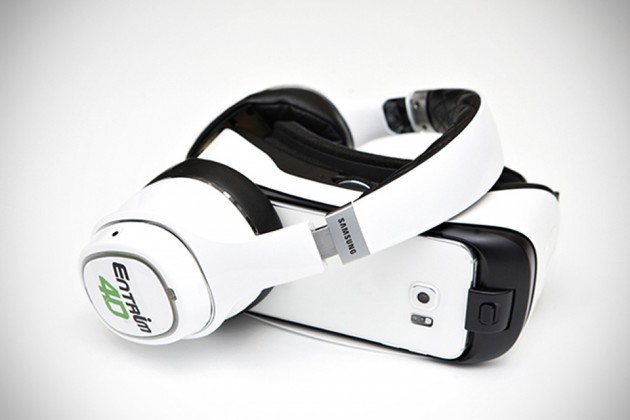 To achieve this sensation (a more appropriate word, in our humble opinion), motion signals are sent to the vestibular system in the ear via the headphones "equipped with electrodes that correspond with movement data input by engineers." In other words, Entrim 4D will make you feel like you are on a real roller coaster without the need for 4D motion chairs. The device is still in development where the company is working to include additional electrodes to recreate the rotational motion. While it may seems like Entrim 4D is going to be dizzy experience for some, Samsung said Entrim 4D could in fact be the answer to motion sickness when using virtual reality. That really surprises as, but as Samsung explains:
"Unsurprisingly, the mental discrepancy of seeing yourself riding a roller coaster or zooming around a race track but not actually experiencing the movement can leave you nauseous, dizzy and can even cause headaches."