as much as we love green machines, we do miss the growl and grunt spill out by gas guzzlers. while electric motor has yet to replace IC engine cars, it has pretty much taken over many hobbies as the power source of choice and that would include Big Wheel trike for grown ups. fortunately, the sport of Big Wheel drifting hasn't been totally overran by electric examples (though electric-powered is just as delightful) and auto parts maker, SFD Industries is among one of the good folks that still rolls out beautiful gas-powered Big Wheel. their fine example, aptly called Big Wheel Drift Trike, is driven by an air filtered gas engine putting out 6.5 horses and boasts a CNC bent chromoly frame, and an insanely massive 26-inch front wheel, which helps it to stand out from the horde of adult Big Wheel trikes.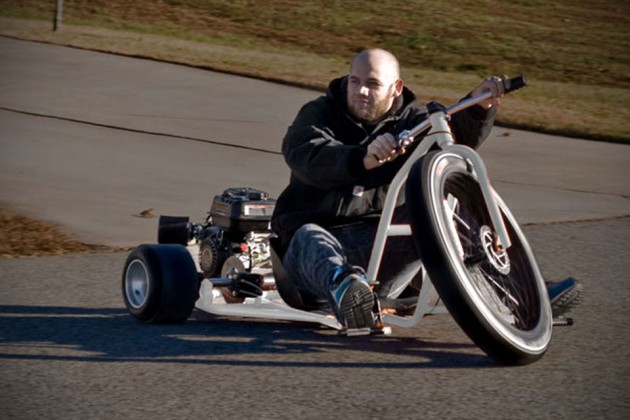 according to SFD Industries, the wheel is "proportioned similar to a child's big wheel to really make an adult look and feel like a kid again." it may not have tassels for the authentic look, but the seriously massive front wheel more than compensate for the child's ride look. like the electric-powered Verrado, the Big Wheel Drift Trike also sports PVC sleeves wrapped rear wheels to promote drifting. another notable difference between SFD Industries' Big Wheel and its competition is the foot rest. while other makers stay faithful to the original kid's ride by having them on the front forks, the Big Wheel Drift Trike have them on the frame and away from the big 26-inch by 3.5-inch wheel which will not only eliminate foot lift during drifting, but also avoid having your legs being scrubbed. similar to motorcycle, this gas-driven trike has a twist throttle and comes standard with rear brakes for stopping power.
the base Big Wheel Drift Trike is up for grab now, starting at $2,000 and it is offered with some pretty serious upgrade options for those who demands more, including hydraulic disc brakes, dyno-tuned motor upgrade, down tube mount gas tank, renthal grips and upgraded twist throttle.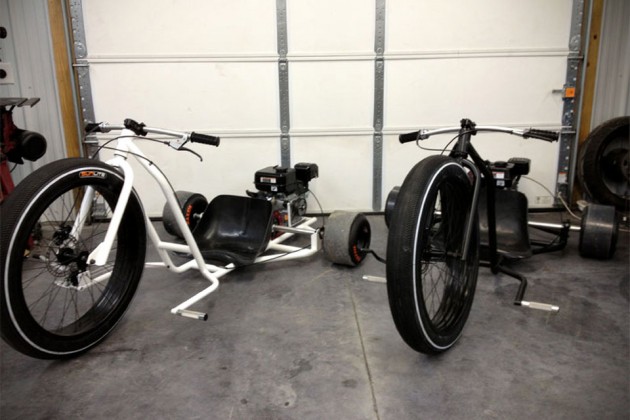 SFD Industries via Gizmag