Not everyone wears a watch, let alone a smartwatch and for everyone else who wears a timepiece, not everyone is willing to forgo their five-figures luxury watch for a geeky wearable. Well, we have good news for this bunch of folks. No wait. In fact, this good news goes out to everyone who refuses to let go of their favorite timepiece. A startup, Kairos, wants to turn your everyday wrist-worn into a smartwatch. Their product, known as Kairos T-Band, is a replacement wristband for your favored watch, which essentially moves the "smart" functionality of a smartwatch to the band. Originally designed for the firm's mechanical timepieces, the Kairos T-Band could be fitted to different makes and models of wristwatches with the use of the appropriate adapters.
There are altogether three models of smart wristband being offered on Indiegogo, each packing a 9-axis gyroscope, accelerometer, compass, optical sensor and a lithium polymer battery, rechargeable via a POGO pin USB charging port. The first of the three models, the No Display or ND mode, does without a display. Instead, it uses a multi-color LED and vibration motor to discreetly notify you of incoming notifications. Next, is a Hidden Display (HD) model which sports a discreet display. The display remains incognito when not active so that is looks, well, discreet and only lighting up when a push notification or alert is received. The tradeoff for being super discreet is that HD model will not be able to display images and videos, and it only supports English alphanumeric.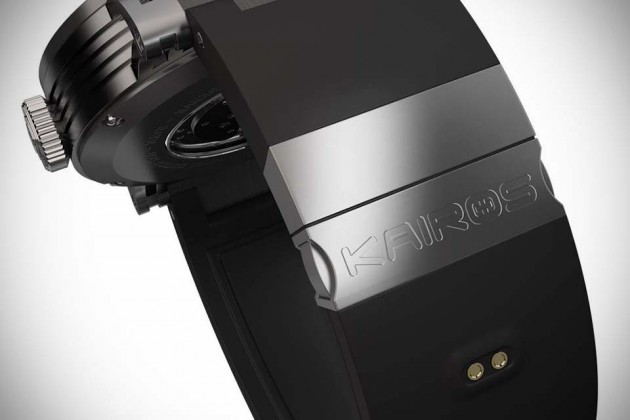 The last of the three model is the OD display which has a PMOLED display, complete with touch sensor and hardened mineral glass with anti-scratch coating. It boast an ARM Cortex-M4 chip, along with dual-mode Bluetooth Classic and BLE and has an onboard microphone for speech to text capabilities. The functionality depends on the model chosen, but at the basic level, you get to free yourself from the hassle of pulling out your phone to check if there are any alerts. Obviously, if you are expecting a fuller smartwatch functions, the OD is the way to go. It will also let you remote control your smartphone or tablet for say, triggers the digital camera's shutter, music control, send preset texts, and even remote start your vehicle. Though the latter will requires additional modules which are not included.
As you might have expected, the demand for such flexibility i.e. turning your favorite watch into a smartwatch, is pretty huge. Its campaign on Indiegogo has racked in over $120,000 in funding. If you want one, you have to act fast cos' the campaign is ending in less than 48 hours time. And as for the price, it starts at just $129.