Despite being called a robotic bartender, the Somabar looks nothing robotic, which is a good thing because the last thing we want is to have Sonny hanging around our kitchen countertop. The Somabar is the latest automated smart mixologist to come onto the market and like the few robotic bartenders we have seen so far, it is connected and designed to contain an assortment of cocktail ingredients ready to precisely concocts your favorite cocktail drink via a dedicated mobile app (for both iOS and Android devices). It dispenses with the use of disposal containers and instead, employs what its maker called Soma Pods to store the ingredients. The pods are removable, dishwasher safe, totally reusable and boasts a proprietary friction fit seal mechanism for an airtight seal to keep the ingredient fresh and to prevent leakages.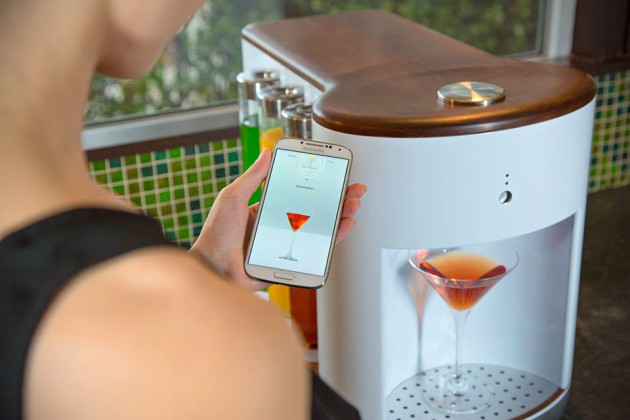 At a touch of a button on the app, Somabar extracts the appropriate ingredients, infuse bitters if you desire, and mixes them in precise proportions before dispensing your craft cocktail – all in a matter of seconds. Somabar is compact (probably the size of large coffeemaker), which means it won't invade your entire kitchen countertop, plus it looks pretty sleek, perhaps the sleekest we have seen thus far. And oh, and it is probably one which you can own without busting your bank account. The Somabar Compact Robotic Bartender has 12 more days on Kickstarter, but the campaign is already an overwhelming success, pulling in more than $190,000 in financial backing through the various reward levels with over 500 backers behind it.
Want one? All you have to do is to make a pledge of $399 or more to secure yourself for an estimated delivery in July 2015. Scroll down for a pitch video.