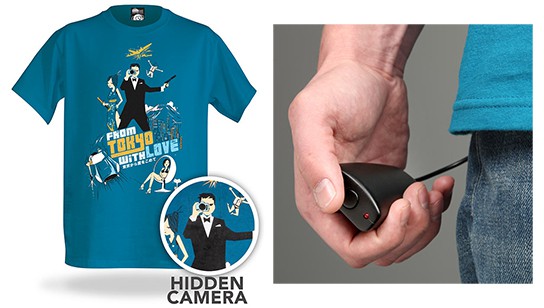 (image credit: ThinkGeek) Electronic Spy Camera Shirt | US$39.99 | www.thinkgeek.com
i hardly think anyone would dream to be James Bond in this era. just in case you still do and you don't have a Mr. Q to churn up wonderful spy gadgets, you can start it off with the Electronic Spy Camera Shirt.
basically, it is a cotton tee with a camera behind it, at your chest level. with a retro-chic looking graphic that speaks 'From Tokyo with Love' and a what looks like James Bond character (we are sure, it's just a coincidence) in his suit with a camera held to his eye. don't underestimate the camera that Mr. Bond is holding on to. behind it is a real spy camera that can take up 150 still images of 640 x 480 resolution.
[ad#Google Adsense-text-468×60]
the camera is activated via a remote device which can be easily slipped into your pocket. so private detective wannabe can capture anything that your chest sees. after a day of spying and drenched in perspirations, you can remove the electronics behind the shirt and send your shirt to the laundry. no worries of being too smelly and breaking your cover in the process.
photos captured can be downloaded by plugging the device to the USB and it works with Mac, Linux and Windows. while this is fun, we don't endorse using this to intrude into other beings' privacy. but hey, it could be a fun thing capturing candid moments of your friends and relatives during gatherings.