In the virtual world, anything goes and while 2,000+ HP seems like more than mere ridiculous (or insane, some says) number for a motor vehicle, it is totally sound and acceptable in the virtual racing world. Case in point: the SRT Tomahawk Vision Gran Turismo, the latest addition to Gran Turismo 6's growing portfolio of Vision Gran Turismo concept cars conjured up by leading automakers, which happens to pack an unholy 2,590 horsepower. A product of Street and Racing Technology, the single-seat SRT Tomahawk is a collaborative effort with Polyphony Digital and is SRT's vision into 20 years. Three models will be offered in the game: 'S', 'GTS-R' and X. The latter is the range-topper, making the said 2,590 ponies from its V10 powertrain. 'S', by the way, is the 'entry level' SRT Tomahawk, while the 'GTS-R' is the racing variant and the 'X' is what SRT called "the experimental technology ultimate version," or as we like to call the insane version.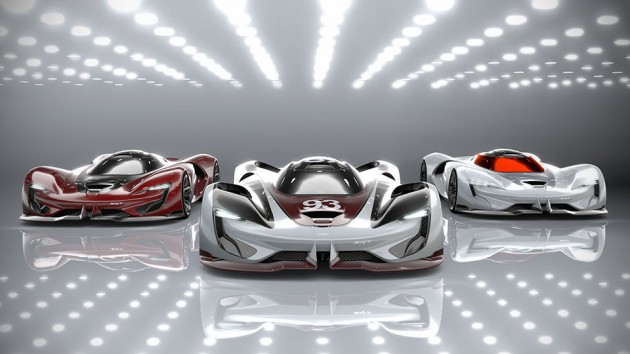 The functional exterior is based on the selected design in a competition that was opened to the Fiat Chrysler America community and according to FCA, the SRT Tomahawk has "a full set of engineering and performance specifications developed by the SRT engineering team at FCA US, the capabilities of the SRT Tomahawk Vision Gran Turismo are rooted in an effort to push performance just beyond the limits of known science." Wait.. isn't that known as science fiction? or should we say 'game fiction'? Anyway, the out-of-this-world exotic exterior is only matched by its futuristic powertrain which includes a V10 unit powering the rear wheels and the front wheels, driven pneumatically driven. So, it is a hybrid setup, but not quite the electric-IC hybrid one would expect, which makes it all the more out-of-this-world.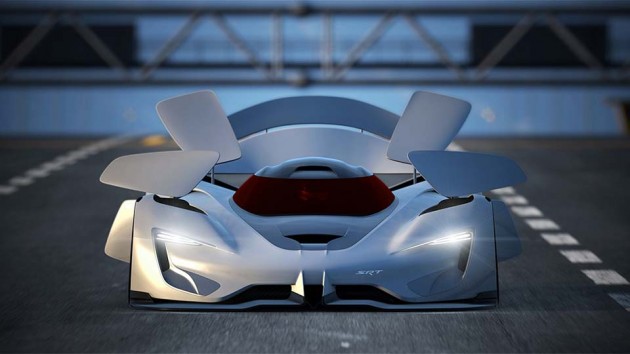 And there's more. Pressurized air, stored in tanks integrated into the vehicle's chassis, are used to drive fast-actuating aerodynamic body panels to enhanced braking/traction performance, as well as activating the driver's G-suit during extreme maneuvers. Everything about the SRT Tomahawk Vision Gran Turismo speaks futurism, though FCA said the concept was derived from technologies pulled from both existing and future potential developments. Now that is one car you won't see on the road anytime soon, but fortunately, not all hope is lost cos' avid fans can take the wheel of the SRT Tomahawk Vision Gran Turismo come this summer when it becomes part of the Gran Turismo 6 downloadable content.