Trekkies rejoice! your dream of a functional Phaser is finally going to be a reality, well, except that this replica here does will not stun hostile alien lifeforms, but instead, it will let you switch TV channels like a (Star Trek) boss. i repeat. it will not maim or kill. described as an "exceptionally accurate and highly detailed working replica", the Star Trek: The Original Series Phaser Universal Remote Control was created from 3D scans of the last known prop and like any universal remote, it will work with any modern day home entertainment systems that are infrared-based. this 1:1 scale replica comprises of two parts: the Phaser I which is a standalone gesture-based universal remote that can be clicked onto the Phaser II pistol-grip base for additional controls.
expect to store up to 36 programmable gestures and be treated to ten authentic Phaser firing sound effects and tactile force-feedback for that an 'immersive' experience. there is also a silent mode in case your 'mission' calls for a stealth 'attack' such as when your kids are sleeping while you are getting your Star Trek porn fix in the middle of the night. with such an attractive 'thing' in the living, it is bound to attract some undue attention and soon you will will find adults and kids alike wanting a piece of the pew pew action, but luckily there is a customizable personal lock code to keep this from being abused. the remote is kept juiced by a lithium polymer battery and recharges via USB. this delightful remote (you know we are being sold already, don't you?) also features multi-colored flashing emitter to back up the sound effects for added measure of realism.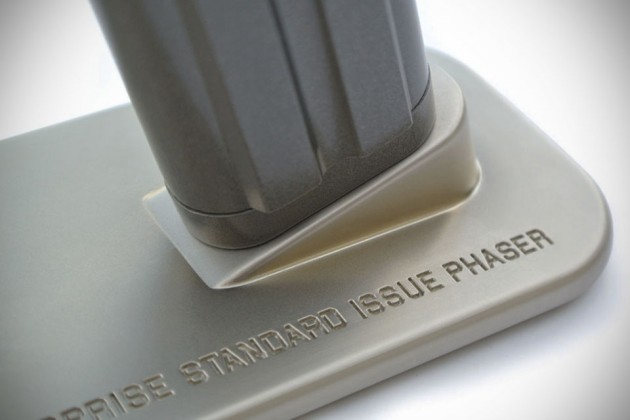 accompanying the remote is a die-cast metal display stand with hidden magnet for those who want to display it as a trophy or just as a resting place when it is not in use. it also comes with a protective carrying case, complete with special-issue Enterprise screwdriver with blade cover and a lovely phase, pronouncing it as a "U.S.S. Enterprise Standard Issue Phaser." the Star Trek: The Original Series Phaser Universal Remote Control will be available in November from ThinkGeek for $149.99. however if you can't wait, you can catch it in person at San Diego Comic-Con on July 23 at ThinkGeek's booth (#3849). it is also available for pre-order from Star Trek shop for $149.95.