Times may have changed, but rubber band gun remains a favorite among boys and dudes alike. That said, while keeping with time, modern rubber band gun need not to be made out of wood, neither does it need to be handcrafted. Why? Because we have 3D printers now and first-time Instructables member mdavisgtm aka Matthew Davis is here to show how it is done. He has created The Arcus, a 3D-printed rubber band Gatling gun that is as functional as it is awesome looking. The coolest part is how you hold The Arcus: your hand goes deep inside the cavern formed by eight 'barrels' where it boasts an arm mount that makes The Arcus looks like part of your arm.
We imagined holding one will make you like a cyborg of the future. Another awesome thing about The Arcus is, it is full 3D printed – every single part of it – and put together without the need for screws or glue. The Arcus is designed to be fully automatic rubber band gun with a carefully thought out mechanism that leverages on the energy generated from the previous shot to rotate the barrel into position for the next shot. This design enables The Arcus 3D-Printed Rubber Band Gatling Gun to unleash 48 rounds – six rubber bands on each firing block – downrange in seconds.
If you are keen, head on down to mdavisgtm's Instructables page to learn how to build one for yourself. Obviously, you will need a 3D printer to get started with this awesome project. Meanwhile, you may want to check out The Arcus video below the post to see it in action.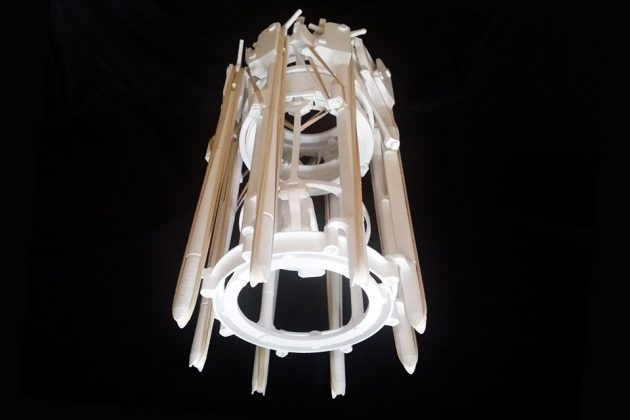 All images by mdavisgtm.