We rarely do cutting board aka chopping board. But when we do, you know it is either Star Wars-related, or crazy cool and fun, or exceptionally functional. Well, latter is what TidyBoard Bamboo Cutting Board is.
In addition to the obvious stylishness offered by bamboo, TidyBoard is also kind of like a cutting board tidy. You know, a desk tidy equivalent.
It makes for a "contained" food prepping area, letting you place strainers, catches and containers on the end of the cutting board.
With strainers, catches or containers, you can easily slice fruits or vegetables and separating the ingredients from the scraps – all on one board.
If you are a person who are obsessive with tidiness like myself, you will appreciate what TidyBoard is trying to achieve. That said, what it can do is beyond what words can described and so, here's a video detailing what it has to offer:
Pretty snazzy, right? We also appreciate the fact that the food safe containers are collapsible and, affording a saving of over 50 percent in cabinet/drawer space.
Moreover, the containers come with lids and each lid come with a vent that allows it to be microwavable too. The bamboo cutting surface not only looks good, but it is, apparently, antibacterial too.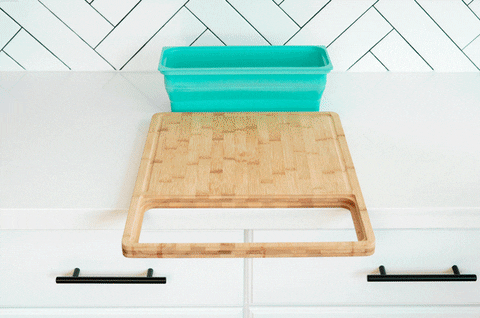 Finally, as the video have explained, clever engineering ensure that the board will not tip over under heavy load on one end while hanging over the counter. TidyBoard claims it could hold as much as 9 lbs (4 kg). Now, that's a lot of potatoes it can hold there.
If you are sold by the idea, you can pre-order the TidyBoard Bamboo Cutting Board on Kickstarter for a starting price of US$79.
The campaign is funded and so, it is indeed a pre-order which, if all goes as planned, should see delivery sometime in October 2020.
All images courtesy of TidyBoard.
Submitted via TIP US Page.