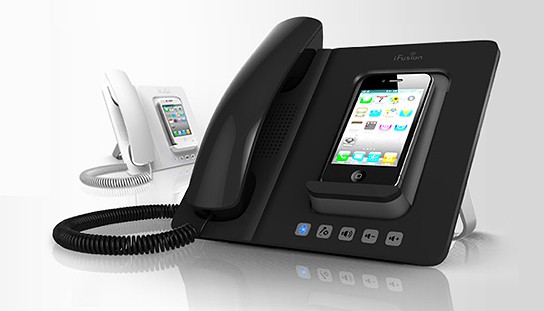 (credit: iFusion) iFusion SmartStation | US$149.00(pre-order) | www.thefusionphone.com
back in December last year, we featured Hashy Top-In docking station that turns your iPhone into a fixed line phone. that was a neat idea but it doesn't look as polished, especially with its the 3.5 mm cable jutting out. well, there's a new kid on the block that will fix the aesthetic 'issue' of the Hashy item and this new kid is the iFusion SmartStation.
the SmartStation is an integrated communications docking station for iPhone 3G, 3GS and iPhone 4 that harness the power of Bluetooth wireless technology, turning your iPhone into a traditional hands-free speaker fixed line phone. i'm sure you still remember how a fixed line phone looks like, don't you? needless to say, it is designed to look like a traditional fixed line phone complete with a handset and coil cord.
the SmartStation has a built in dock connector that syncs and charges your iPhone while docked, and an audio line out port allows connecting to separate powered speakers if louder audio is required. using A2DP Bluetooth streaming, users can also enjoy their music in their iPhone over the SmartStation's built-in speaker.
the iFusion SmartStation is available in either black or white and has a pre-order price of $149. it will start shipping sometime this month.
Thanks to Abu Beeman for the tip!