Power strip is not the newest invention, but that doesn't stop an Italian startup, Woodie s.r.l., from taking up the challenge of reinventing it so that we could have an easy one when dealing with such a necessary evil. Woodie s.r.l. completely rethought what a power strip should be for the beings of 2016 (and, possibly, beyond). The outfit's first product is Woodie Hub, a power strip designed for gadget-savvy users that offers a pair of universal AC sockets compatible with plugs from over 150 countries without the need for travel adapter and it also provides USB-powered gadgets the charging convenience with a pair of USB port that discharges 5/3.2A combined.
If that's not enough, the empty surface you see on this very un-power strip design is a Qi standards wireless charging pad that pushes out 5V/1A of induction charge to juice up compatible devices. Rounding up the package is a built-in white LED light, providing a soft ambient glow for a touch of elegance and sophistication. All the aforementioned features are packed into a compact, Apple TV-like design which design elegance was given a boost through three border trims: wood, Carrara marble that hails from Tuscany and Rosso Levanto from Liguria, or for the industrial design fans, raw concrete. Whichever you choose, each border trim comes with its own natural pattern that's unique to it. In other words, each unit is aesthetically unique and no two units will ever look alike.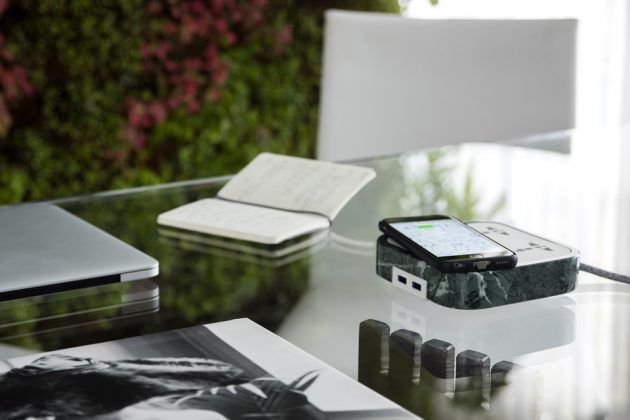 With a design that begs to be shown off, the Woodie Hub All-In-One Power Hub is clearly not meant to be hidden away like conventional power strip. It wants and it deserves a space on your work desk, alongside your precious gadgets like your computer, smartphone and tablet. After an angel investment late last year, Woodie is gearing up to hit the production line and it will be launching a pre-order campaign, starting June 28, 2016. However, prices are not known at this point, but we should have the details when the time arrives.
UPDATE [June 28, 2016] Woodie Hub has finally hit Kickstarter where you can help to make it a reality by backing the campaign. It won't be cheap though, starting at €89 (about US$98). If all goes as planned, i.e. the campaign gets funded, you should be see this little guy as soon as September 2016. Continue reading to catch the product pitch video to learn more.
Images courtesy of Woodie s.r.l.
submitted via TIP US page.