Looking at the "Femme Fatale" Ring Gun that hails from the 1870s, it kind of makes us feel ashamed about today's conceal carry. As the name implies, it is gun which was designed to worn as a ring and totally capable of unleashing seven tiny leads at unsuspecting victims (whom are likely to be men). Designed to be worn as a ring (duh!), it is finely crafted in Germany from a silver ring, featuring herringbone borders flanking the words "Femme Fatale" engraved on the band. Perched on top would be, presumably, the 1870s girls' best friend: a seven-shot brown-finished cylinder with fold-down fire-blued trigger and outer spring band.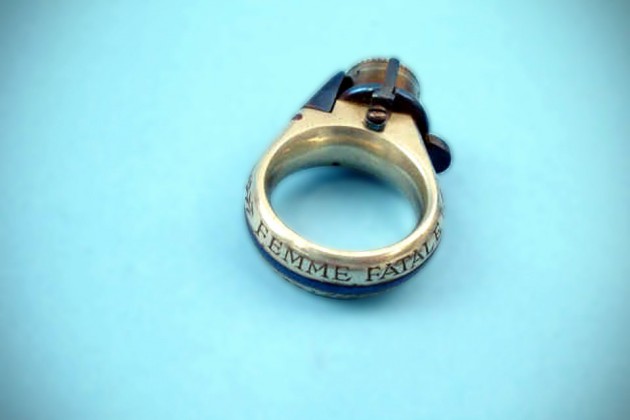 The fold-down trigger is crucial because we are quite sure no gentle lady would want to accidentally kill her lover during their passionate making out routine. The ring/weapon hybrid comes complete with seven cartridges and tiny screwdriver, stashed inside a green velvet-lined, dark red leather-covered ring case with silver button escutcheon engraved with "Femme Fatale", just so everyone knows not to mess with the lady who wears the ring, or something like that.
This early era James Bond worthy weapon for the ladies had graced an auction a while ago where it fetched a cool $11,350, which means, you can't have one even if you have the dough to spare. Unfortunate, it is. I guess ladies will just have to stick to pepper spray or compact handgun like the PS1 Pocket Shotgun Pistol for now.