Tangle mess is part of our life – thanks in part to the USB cable we need to have it with us for on-the-go charging. There's really no perfect solutions to this "necessary evil." To overcome this, you can choose to go with a short cable, or you could wound it up, but what if you don't need to do either? Like, if you can have a long cable that needs no winding and unwinding, and 100 percent won't tangle? While it sounds like an impossibility, those qualities are actually part of CONNEX Self-collapsible Universal Cable. We prefer to call it card cable, cos' when in its collapsed form, it looks pretty much like a card that you could easily slips into your wallet, purse or bag.
When you need it, you just hook the two devices up. If need it to be longer, just tuck it and it has the flexibility to stretch many times over its original length. Thanks to the silicone's elasticity and physical strength, the cable will return to its original form when you are done. Though we are not sure what's the elastic limit. In engineering point of view, there's a limit, but as far as everyday use is concern, CONNEX makes a good compact cable that will not mess up your life.
Simple and straightforward.
Available in Apple Lightning Connected for Apple small devices and micro USB connector for most Android devices, the CONNEX Self-collapsible Universal Cable is available as pre-order on Kickstarter for $9-13, depending on how soon you back the campaign and for which version. You can learn more about CONNEX Self-collapsible Universal Cable in the product pitch video below.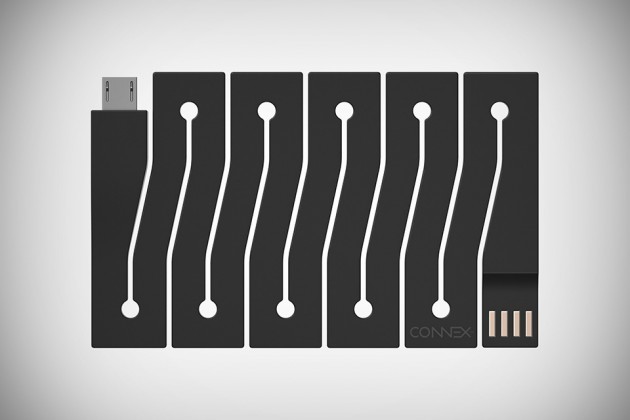 submitted via TIP US page.