When you are hell bent in venturing into the woods, an ATV appears to be the perfect option. But that's assuming that the woods is generous enough to provide you the space your ATV needs, or you could go with a two-wheel electric all-terrain vehicle, like the Daymak The Beast D Off-Road Electric ATV that could get past the narrowest space imposed by the trees. But wait. Isn't that the same Beast we saw on Kickstarter sometime last year? Yup. It sure is. But that was an electric bicycle, isn't it? Again, yes, but the Canadian outfit's new iteration is said to be a basher of sort and is destined for off-road use only and they are calling it the two-wheel all-terrain vehicle.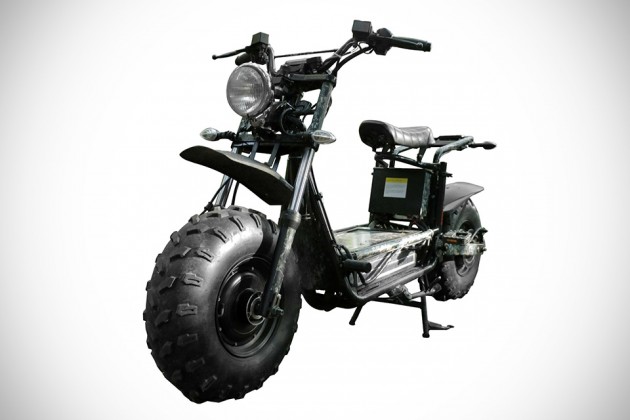 It will go anywhere – thanks to its powerful dual 500W brushless DC motor and 60V20ah lithium-ion battery – letting you make your own trails rather than following one. Like its predecessor, Beast D is outfitted with a removable solar panel battery that recharges itself wherever you may go. The battery charges at 10 km per 8 hour of ambient light exposure and when fully topped, it is good for up to 18.6 miles (30 km) range. Alternatively, you can remove the battery pack and let you sun bathe on the roof to absorb what Mother Nature has to offer, or use the supplied wall charger to get up to speed in 4-6 hours. Additional features you can expect from this enhanced version includes up to 31 mph (50 km/h) top speed, a steep 36 degrees of incline, and the option of switching off one of the motors for power conservation.
And the price? A handsome $4,299 is all you need. We are not going to lie, it is pricey as heck as far as electric bicycle is concerned, but its capability, if delivered as promised, transcends beyond what electric bicycle is capable of, thus essentially making it an ATV but at a fraction of the cost of one. Moreover, considering that it is completely silent (hence, no noise pollution to the great wilderness) and has less than half the footprint of a four-wheel ATV, we'd say it could be an excellent choice for explorers, farmers and hunters.