If you are a first timer picking up the hobby of aerial imaging, then you would want to take to the sky as soon as possible and not fiddle with assembly and sourcing for a camera. If so, DJI latest Phantom iteration, the Phantom 3, is for you. Available in two flavors, denoted by Professional and Advanced, it comes standard with a camera and gimbal system so you can start your aerial imaging career right out-of-the-box. And the camera we are talking about here is by no means toy stuff. The camera onboard Advanced is capable of recording at up to 1080/60p, while the Professional offers up to 4K recording at 30fps. Both cameras are capable of 12-megapixel still imaging using a 94o FoV, distortion-free lens, coupled with a high-quality 1/2.3" sensor that is said to be "more sensitive to light than the sensor on previous Phantom 2 Vision models."
And then there is of course, the image stabilization, which is achieved through the use of 3-axis gimbals. Imaging aside, the new Phantom is also blessed with indoor Visual Positioning system, first seen on the Inspire 1, that allows the drone to hold its position indoors without GPS and speaking of GPS, the rig also boasts an upgraded GPS system to provides "pin location accuracy". The goal of Phantom, since its beginning, is to relief the burden of flying so you can focus on imaging and the aforementioned features only reinforce that ethos. But that's not all. Rookie pilot/videographer will also appreciate the auto take-off and landing feature, while "return to home" functionality makes 'reeling' in the aircraft back to a preset point as easy as pie. The "return to home" will also automatically kicks in if the Phantom 3 goes out of range, so you can be assure your precious flying camera won't get lost or fall out of the sky.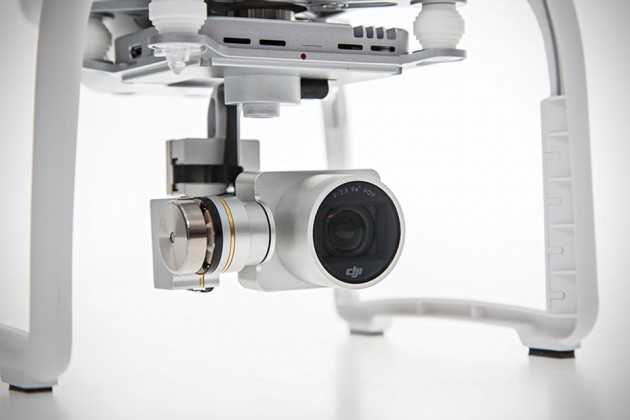 The control and communication are also improved with the controller now boasting integrated Lightbridge, giving you control up to 1.2 miles (2 km) and live HD streaming from the Phantom 3 onboard camera. The controller (or transmitter, if you prefer) offers a clean and uncluttered layout, while still affording full control over every aspect of the flight, gimbal, and camera. Camera settings can also be set with the new DJI Pilot app, which also feature a Phantom 3 flight simulator for practicing aerial maneuvers, and a "Director" feature which automatically pick the best shots from the flights to create short videos. The DJI Phantom 3 is available for pre-order now, starting at $999.