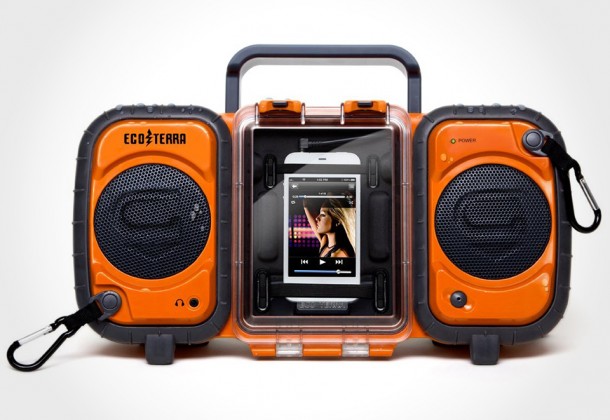 Eco Terra Boombox | US$147.88 | www.ecoxgear.com
what happens when there's no music to accompany your active lifestyle? hint: it will be bored as hell. hence, we rely on our smartphones and MP3 players to inject some soundtrack into our outdoor activities like scaling of mountains, kayaking, pool and beach parties, but not without the associated risks, like those unleashed by Mother Nature or the activity itself. water and impact are your delicate devices' worst enemies. this is why you need the Eco Terra Boombox from Grace Digital that let you continue to enjoy your tunes while shielding your device from the elements. styled in a boombox-like design, the Eco Terra is fully submersible, waterproof and shock resistant. it is IPX7 waterproof tested and approved, thus allowing you to enjoy your music without having to worry about the condition or environment you are in.
the Eco Terra features an internal waterproof compartment that houses your smartphone or music player, as well as personal belongings such as bills, credit cards, and even your car key. constructed of polycarbonate exterior shell with rubberized impact bumpers, it takes up to 1/2 lb. (227 grams) of your personal cargo and will remain afloat on the water with the speakers facing up, in the event your boombox went overboard, and the bright orange hue makes it easy to spot. other features include a pair of 3-inch full-range forward firing speakers, 3.5mm jack ensure a universal fit to most devices, shoulder strap, multiple carabiner clips for attaching the Eco Terra to various places, duo powered with 4 C-Cell batteries for up to 25 hours of runtime or via AC power adapter for unlimited play, IPX7 approved waterproof headphone jack, and an air pressure release valve that maintains the case water tightness at any altitude.
the Eco Terra Boombox can be yours for $147.88 a pop. check out a few more look available after the break.