You have seen the awesome 'cute version' Floating Iron Man Mk II Suit by Beast Kingdom, now meet the Mark III suit, also from the movie Iron Man 3. Like the Mark II, it features an intricately detailed suit, but being Mark III it is now dressed in the iconic hotrod red and gold, in chrome finish. As before, it comes with a powered magnetic levitation base to enable the figure to assume the "flying" pose without the need for a physical stand. While the levitation may be mere millimeters off the lighted, arc reactor-inspired base, the effect is pretty amazing, but effort to get it to actually float is another story. We will do a review of the silver version soon.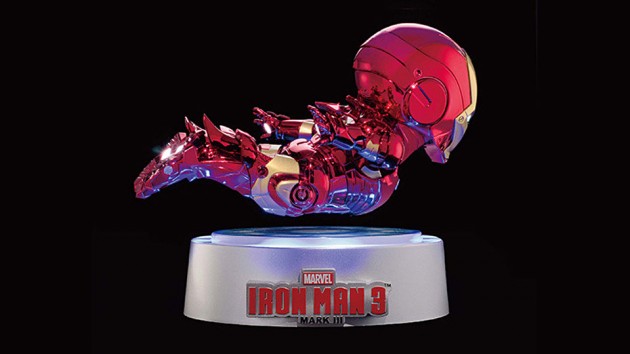 Anyways, the Egg Attack Action Iron Man 3 Mk-III Magnetic Floating Version also gets the same LED light-up functionality which can be found in the eyes, arc reactor, as well as the bottom of the foot. The base comes with an external battery box, presumably to avoid interference with the magnetic base, but can be powered with a 12V/2A DC adaptor. The figure itself is powered by three LR44 cell batteries and it has a switch hidden behind the removable faceplate for turning the LED light on or off. The Egg Attack Action Iron Man 3 Mk-III Magnetic Floating Version is essentially the Floating Iron Man Mk II Suit garbed in a different color and slight design variation.
It was sold at the SDCC this month through Bluefin Distributor for $169.99. Those in Singapore can look forward to acquire it from The Falcon's Hanger at the Singapore Toy, Game & Comic Convention, happening from September 12-13, 2015 at Sands Expo & Convention Center, Marina Bay Sands. Price is, however, unknown at this point.