Lighting is a major issue in remote parts of the developing world. Often this problem can be overcome by solar- and wind-powered solutions, but those are often expensive and needs a certain level of technical knowledge to get working. However, the world saw a changed in 2013/2014 when GravityLight hits the market, proposing that light to be powered by gravity. The idea is to take the place of kerosene, which is the primary source of fuel for lighting in remote locations. Needless to say, the use of kerosene comes with its own set of health risk and creates social problem. According to World Bank, an estimate of 780 million women and children inhale kerosene fumes equivalent to smoking 40 cigarettes a day. Clearly that's not good and increases their risk of developing lung cancer, along with other conditions like eye infections and cataracts, and that's not to mention accidental burn causing harm to both humans and properties.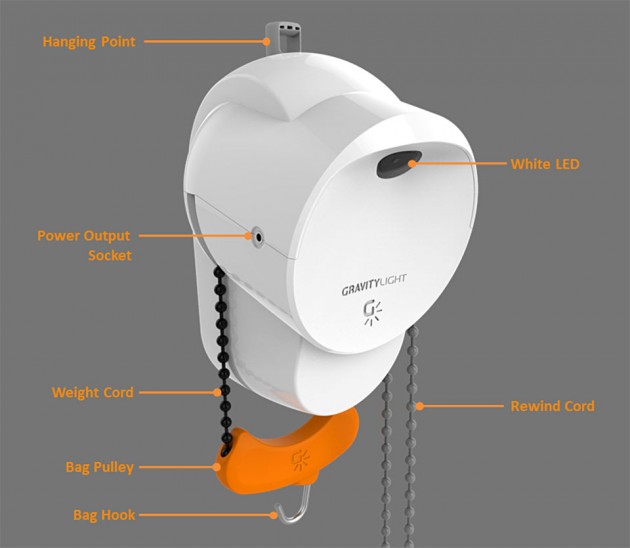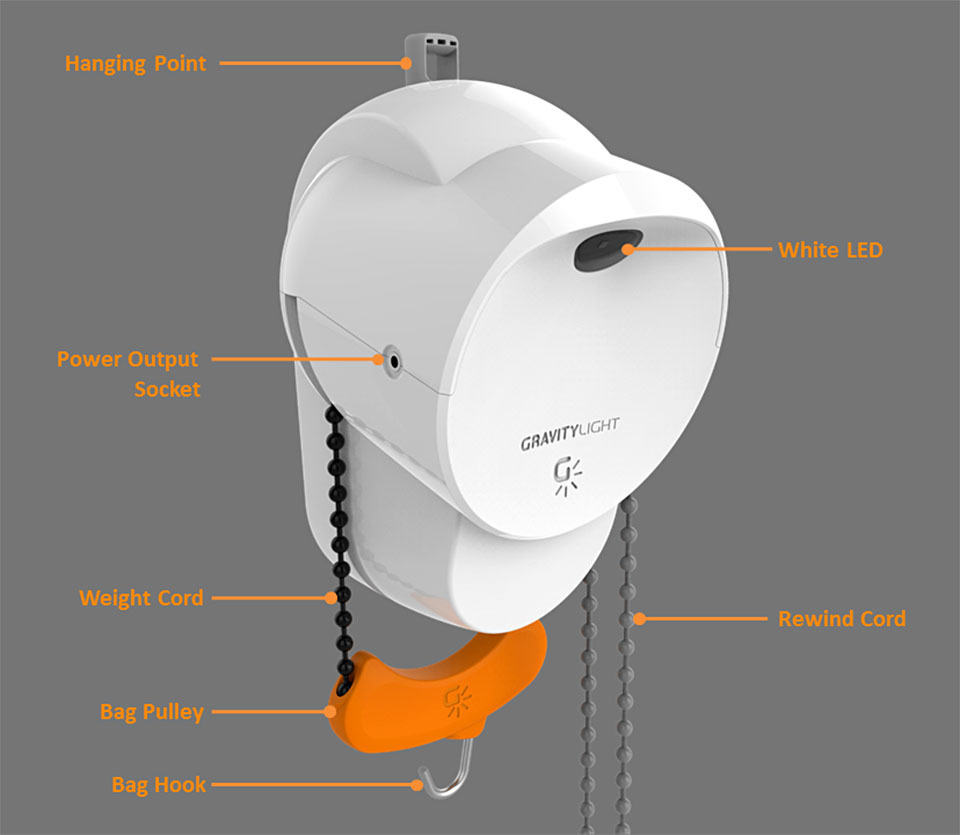 In addition, kerosene brings about added financial burden with the cost of purchasing the fuel accounting for 30 percent of their household income. The GravityLight solved it by charging the light with a bag filled with around 12 kg of materials (stones, sands and the likes) and hanging from a cord below the light. The bag is then hoist up using the beaded cord, ready for its descends. Upon its release, the descending weight powers a series of gears inside the device, driving a DC generator that produces electricity to power the onboard LED light. It generates a little under a tenth of a watt and this power can be tapped out for use with the firm's SatLights. A series of SatLights can be daisy chained together to spread the light around the room. Depending on the height of the GravityLight, it can provide up to 25 minutes of lighting before it needs to be lifted up again. GravityLight works round the clock, freeing us from the dependency of the sun and wind.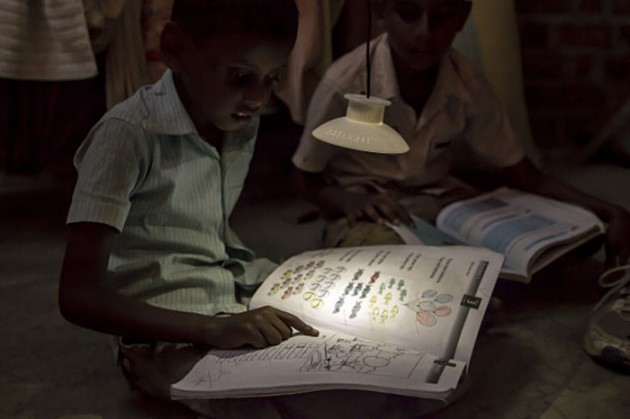 Based on the company's first GravityLight, the new iteration simply called GravityLight 2 (GL02) promised to be even easier to use, brighter, more robust and can provide light as it charges. The outlook has also changed, but the real 'improvement' is, it will be made in Africa, right in Kenya for a start. By manufacturing in Kenya, GravityLight will also be creating local jobs, skills and livelihoods, and it also serves as a gateway to East Africa, allowing the product to reach out to areas where it matters. Moreover, by making the product nearer to areas where it aims to address the problem also helps to reduce the carbon footprint.
GravityLight has once again taken their latest product to Indiegogo and is hoping to raise $199,000 in 40 days and it sure looks like they will have no problem attaining the goal. As it stands, it has already pulled in over $100,000 in funding from more than 1,000 backers and it still has 32 more days to go. If you want, you can support GravityLight's endeavor by backing the campaign. A pledge of $70 will land you with the new GravityLight design plus a pair of SatLights.
There are two options here: you can choose it to be made in Africa, which will see delivery between July and September 2016, or opt for the ones made in China, which will have an earlier shipping time of March to May 2016. The choice is yours, but in all honesty, I would take the former. I mean, assuming the campaign meets or exceeds it is set funding goal and is able to meet the dateline, then I suppose in the name of an extra good cause, four months aren't really a big deal.