The odds of you needing credit cards when you are surviving the wild are next to zero, but that does not make Jackfish Survival's proposal of a survival credit card holder any less attractive. On the contrary, it couldn't be more appropriate cos' credit cards are what you need to get through the concrete jungle, to, you know, buy stuff (i.e. survival in modern sense) and on the flip side, if you are thrown into a situation, Jackfish Survival Credit Card Holder has the tools that will have you covered – both in the wild and in the urban jungle.
Measuring just 8.5mm thick, Jackfish Survival Credit Cards Holder has a space for up to four cards on one side and on the other, is an array of tools which includes urban essentials such as 0.8mm flat-head micro screwdriver for glasses, titanium-coated Pozi drive hex bit and a flat-head hex but, a Kingston microSD card reader, plus a true utility telescopic pen (note: not for stabbing zombies), and survival tools like a 120-decibel aluminum whistle, a button compass, a windproof match, 4.5mm wide firesteel, a Spyderco stainless steel bug knife, and an glass vial good for 10 drops of liquid such as iodine for water purification.
Available in a choice of hard anodized aluminum, or bead blasted titanium, Jackfish Survival Credit Card Holder is running a campaign on Kickstarter where you can pre-order one by making a pledge of £69 (about US$105) or more.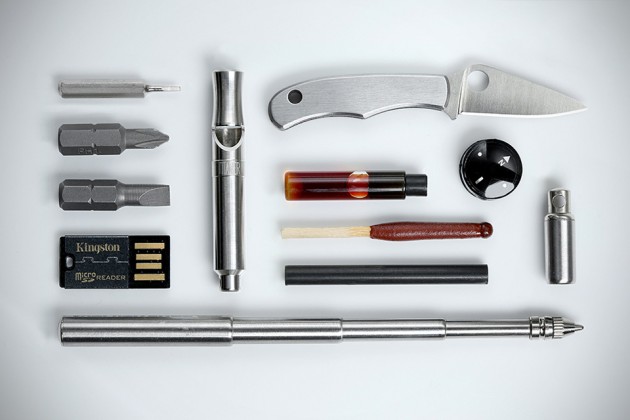 submitted via TIP US page.