It has been a while since we come across a desk lamp that we are excited about. Don't get me wrong. Many lamps are beautiful and well designed, but the Lybra Balanced Lamp stands as one that is kind of a therapeutic desk toy too and hence the mention here.
Lybra Balanced Lamp does not have a regular stand, nor does it levitates like so many novelty lamps are today. Instead, it has a single pivot point, allowing it to perch on any surface and magically remain poised and balanced. It really is rather magical.
Lybra features a symmetrical arch frame with a glowing globe on either end. As far as lighting goes, the lights has two levels of brightness. When not disturbed, it presents itself like a sculpture and when it spins, it offers a calming sight like so many desk toys do.
This is the one lamp that is sure to be a conversational piece. It is an an art and function appliance rolled into one.
But how does it maintain a perpetual equilibrium? Well as per the product's description on its Kickstarter campaign page:
"It uses the principles of centre of mass to keep balance on a point: the centre of mass (C) settles below its support, or pivot point (P), making it balance on almost anything and stable to small perturbations."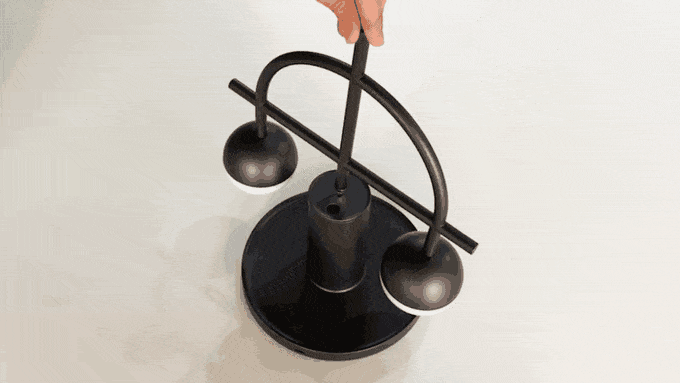 Obviously, major perturbations will make it topple over, but under regular touches, it is just as graceful as ballerina.
You can learn more about the Lybra Balanced Lamp and if you desire, secure a unit by pledging for a product on its crowdfunding campaign page. Prices start at a surprisingly low US$69. The campaign is funded and so, if all goes as planned, it should see delivery sometime in June 2021.
Images: Kickstarter (ZAN Design).