No. Naked Cooler is not a naturalist thing, though naturalists are welcome to use them. Naked Cooler is essentially a cooler with windows and a customizable internal. It looks pretty rad with the transparent thing on it, if you ask me. Well, it might not be the king of cool that touts boatload of tech, it is a functional cooler that removes one of life's small inconveniences of not knowing what's in the cooler, or are there any booze left in there to justify a long, arduous 3 feet walk to flip open the lid to retrieve a drink or two. Think you get the idea. In addition, it also makes your summer's chilling out under the sun days a more organized one by having a removable drink organizer that wraps around a 14" x 10" ice bin, good for up to 18 drinks.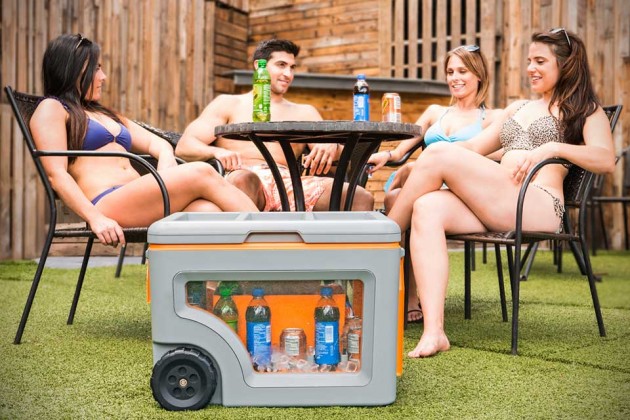 The cooler has a 2-inch thick foam insulation that is said to be able to keep ice frozen for 24 hours. Though we are not so sure about the transparent part which sun may have direct access to the interior. I am guessing, the 24-hour benchmark is likely not under the sun condition. If you need more space, the ice bin slash drink holder can be removed to give you a generous 50 quarts of space to hold over 50 cans of your favorite drinks. The cooler comes with an integrated telescopic handle and a pair of large wheels for easy transportation, and is available in a choice of pink, blue, orange, or green accents. And oh, it is designed and will be made in the good'ol US of A.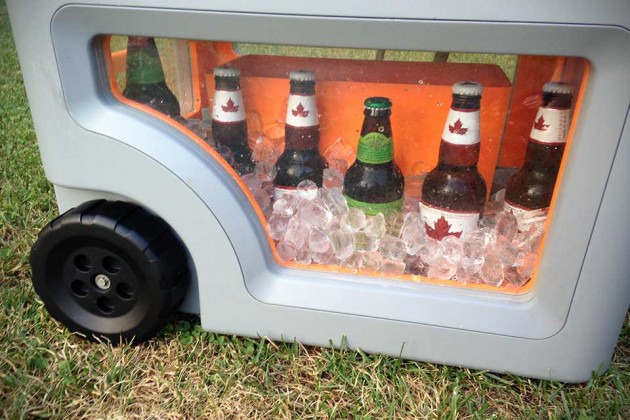 If getting naked is your thing, you can pledge your support on Kickstarter and keep your fingers crossed that the campaign can reach or surpass its set funding goal of a lofty $200,000 in the next 14 days. A pledge of $99 or more will assure you of one of this cool naked wonder – if the campaign achieve its goal and if it does, you will have to wait till March next year to see it at your doorstep. That's not the only caveat though; it only ships to Canada and the USA.