10 years ago, augmented reality gun was a thing. It quickly died down for obvious reason: no one wants to be wielding a toy gun that needs a phone as its "sight" to shoot some virtual aliens.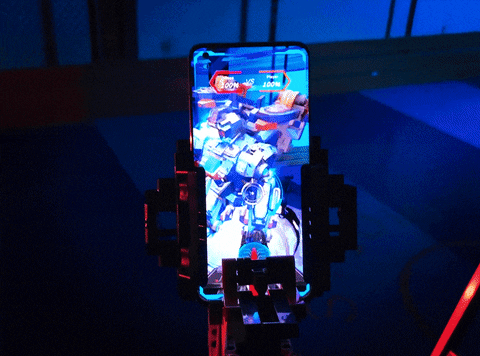 While that was piece of history for the rest of the world, one LEGO-style building block maker ONEBOT is embarking on an AR toy gun, called ONEBOT "Shardtooth Shark" Building Block AR Toy Gun.
User assembled using LEGO Technic-like elements, the toy gun resembles a modern bullpup assault rifle when completed. Very sleek and handsome. But totally unnecessary like previous endeavors.
OK, perhaps it is a little less unnecessary because, it is not just an AR gun that lets you play AR game; it can also shoot real, toy projectiles. So, the ONEBOT Building Block AR Toy Gun in fact serve three purposes: as a beautiful gun model, a projectile-shooting toy gun, and an AR toy gun. Perhaps this may actually work, i.e. sell.
As an AR toy gun, it has an integrated smartphone holder that enable augmented reality gameplay. How that plays out, requires no explanation. However, there's no Bluetooth or any wireless trickery; triggering the phone to register shots are done through the toy gun's hardware.
In other words, a mechanism links the toy gun's trigger to a contact to your phone. Pulling the trigger will move mechanism to touch the screen of your smartphone. Not the best of idea, IMHO. You know, having a hardware "hitting" your phone physically.
Then again, for just 399 yuan (US$62), we cannot expect the world, can we? In fact, this is the second crowdfunding campaign on Xiaomi Youpin crowdfunding platform. The first successfully funded campaign saw the toy gun sold at an even cheaper price of 299 yuan (US$46).
Images: Youpin (ONEBOT).