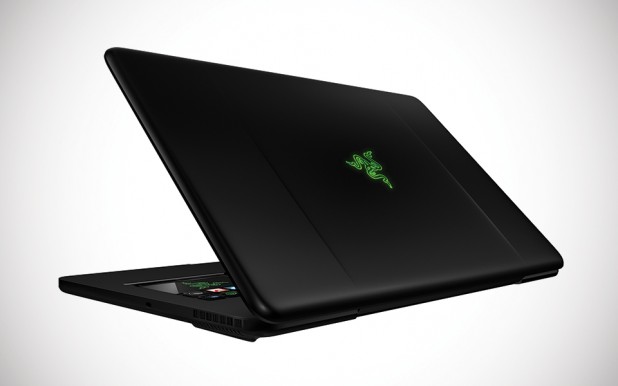 Razer Blade Gaming Laptop | US$2,499.00 | www.razerone.com
addiction can make a person do wonders just to satisfy that particular craving. take for example, PC gaming. it is highly addictive and hardcore gamers often spend hours on end without moving their butts. so needless to say, that's not very healthy cos' it thrashes your physical health, as social life crumbles around you and you became so detached from the world that you don't even know Salted Caramel Mocha is Starbucks' latest cup of java. anyway, that's why we have gaming laptop. though, you may not solve the socializing part of the things with portable gaming rig, at least you get to roam around and play, wherever and whenever you desire. and you don't just go for any laptop, it got to be a power house if not a beast, like the new Razer Blade Gaming Laptop. tucked within its lightweight aluminum chassis is the latest Intel Core i7 processor, complemented by a massive 8GB dual channel DDR3 RAM and a unique hybrid storage setup that comprises a 500GB hard drive and a 64GB SATA III SSD.
other key specifications include integrated Intel GMA HD graphics for mobile mode, NVIDIA GeForce GTX 660M 2GB VRAM with NVIDIA Optimus Technology for fast and immersive gaming experience, a 17.3-inch full HD LED backlit display, a specially designed integrated 60Wh battery, Razer Switchblade User Interface, Razer Anti-Ghosting Keyboard, Razer Synapse 2.0 Enabled, built-in 2.0-megapixel HD webcam, built-in speakers with integrated digital 7.1 surround audio support, HDMI-out, USB 3.0 ports, 3.5mm audio jack, Gigabit Ethernet port, WiFi, and Bluetooth 4.0. despite packing with features, this monstrous mobile gaming platform weighs in at just 6.6 lbs or 2.99 kg and measures a mere 2.24cm or 0.88″ thin. the new Razer Blade Gaming Laptop is available for pre-order now with a price tag of $2,499. take a look at a few more at this portable gaming beast and short product intro after the break.