rubber band warfare is about to get a little crazier, thanks to this awe-inspiring creation by Ukraine-based Alex Shpetniy and Brian Dinh, simply (and no less aptly) dubbed as the Rubber Band Machine Gun (not to be confused the RBmG, though). with a capacity of 672 shots of rubber bands (yes. six hundred and seventy-two!) and a firing rate of 14 shots per second, this is the one true rubber band gun that will out rubber gun any opponent that stands in your way. made of plywood, precision cut using CNC machine, the Rubber Band Machine Gun has a total of 16 "barrels" to hold 672 rubber bands and is powered by a battery operated small electric motor, which makes raining rubber bands on your unfortunate targets a matter of holding down the trigger (and sweeping the gun from side-to-side).
however, loading up nearly 700 rubber bands individually onto this rubber band gun is no joke; it could take an unimaginable amount of time and by the time you are loaded and ready, the rubber warfare could have already ended. understanding this hurdle, the creators has developed an ingenious 'Fast Charging Device' that will allow you to load 14 rubber bands on each 'barrel' in one swift move, thereby cutting the rubber band ammunition loading time to a fraction of the time. but time is not the only factor here; manually loading hundreds of rubber bands individually could also potentially result in sore and aching fingers. and the good thing is, this 'fast charging device' will come standard with each Rubber Band Machine Gun.
the Rubber Band Machine Gun is currently on Kickstarter seeking financial backing to help fund the production and you can secure yours by making a pledge of $85 or more, or $90 for a DIY version, if that limited early bird special runs out. an assembled unit would set you back at $95 each. also available in burnt wood and black-colored variant, which goes for $125 and $115, respectively.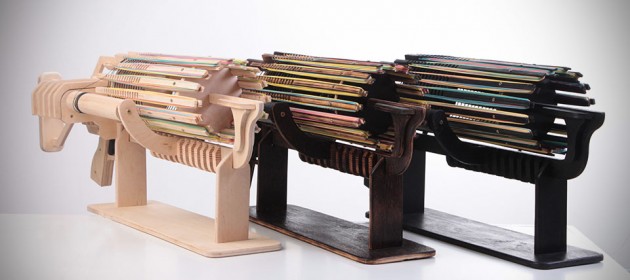 UPDATE [January 12, 2014; 3:50PM PST] this amazing Rubber Band Machine Gun's campaign will be ending in another 5 days time, and if you haven't already secure yourself one, here a new super cool version for your consideration: the Machine Gun Gift Pack. this special edition comes standard with the fast charger, with both the Rubber Band Machine Gun and the Fast Charger finish in camouflage, and packed into the special military style wooden box. it is not kind camo you would expect, but still pretty rad looking nevertheless. it can be yours in exchange for a pledge of $380 or more.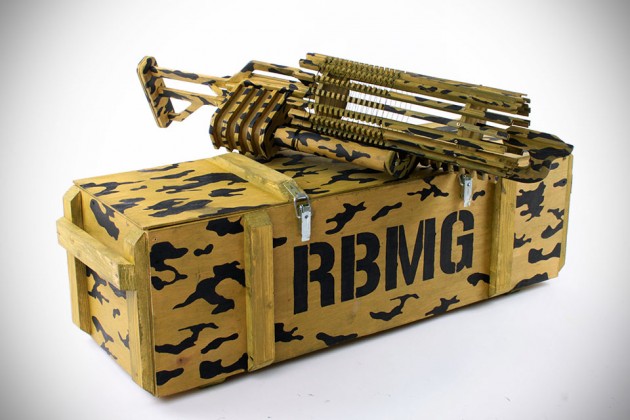 Hat tip submitted via MIKESHOUTS' Tip us page.