Remember the Samsung Iron Man Galaxy S6 Edge Smartphone we reported last week? Well, it is here and we are surprise it wasn't earlier to boost up Marvel's Avengers: Age of Ultron premier week. Anyway, it is here and available to lucky Avengers fans residing in Korea, starting on May 27, 2015, and China and Hong Kong in June. Under the hood, it is the Galaxy S6 Edge you read about. Though so, this handset transcends being a communication device; it is a collectible that, for as long as the Avengers franchise lives, it will be forever be prized. What you will be getting is cosmetic with the device dressed up in Iron Man hot rod red and gold colorway. The device is predominantly red, with gold trimmings on metal band, and around the home button and camera, while a minimalistic Iron Man headshot can be found around the back for completeness sake.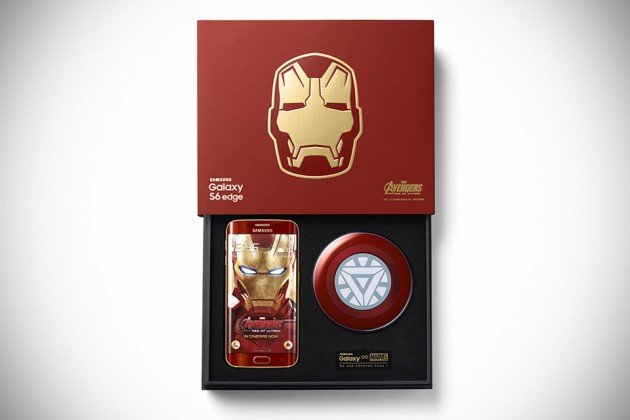 Being such a huge collab, Samsung and Marvel are not about to stop there. The device is also preloaded with matching Iron Man theme which includes wallpaper, lock screen and icons. And it also gets an pretty impressive packaging to boot, also in a form of a hot rod red and gold box complete with Iron Man branding and on the inside you will find the Iron Man-themed handset, a transparent protective case and wait for this… a wireless charging pad designed to look like the arc reactor. Not sure if the arc reactor-like charging pad will light up, but if it does, it will be superbly awesome. The handset, said to be limited edition, only comes in 64GB variant. So what about other key superheroes? Apparently, nothing for them and so fans will have to content with Avengers' accessory kit like the respective superhero-themed cases, charging pad and themes.
The Samsung Iron Man Galaxy S6 Edge Smartphone is listed in Korean for 1,199,000 Won, which is around US$1,082, based on the current going rate. Also it is limited to just 1,000 units, plus as a reward for the first 100 who plonk down the money for it, they will get a special edition "high-tech" briefcase. At this point, it is not known how many sets will be heading to China and Hong Kong, and there's no word on if it will be available elsewhere. In the mean time, you can make yourself drool over this beauty with the official unboxing video below.