Welcome to 2020. It is the year where mankind's existence is threatened by an invisible enemy. While it may not seem all so apocalyptic, yet, donning the BioVYZR Powered Air-filtration Protective Shield definitely make us look we are in the middle of the Fallout storyline.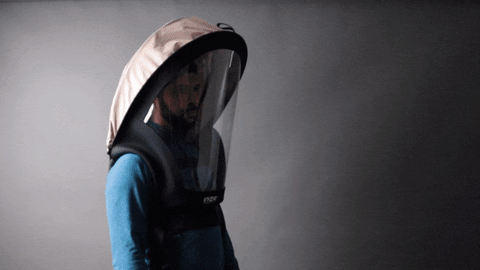 Created by Canada tech firm, VYZR Technologies, BioVYZR is the answer to the lack of protective personal equipment for everyday folks. BioVYZR will not only protect you from COVID-19, but any airborne pathogens and then some.
As absurd as it may looks, it might just be what we need moving forward. As the company puts it, "unprecedented design for unprecedented times."
Perhaps, it could be what social distancing-haters need. Isolating one without actually having to social distance.
The powered air purifying technology, which uses N95 filtration, offers a quiet operation with 3 level of airflow settings, 12 hours of battery life and in a lightweight (2.7 lbs or 1.22 kg) weatherproof construction.
BioVYZR Powered Air-filtration Protective Shield encapsulates the wearer's entire head with a ton of room to spare. A large, anti-fog face shield offers an unhindered view equivalent to that when you are not wearing the contraption.
I know. It is absolutely bonkers that we even have to think of wearing a thing like this, but the threat is very real and this could be the answer if we want to get the economy going. Perhaps.
This is no concept, btw. It is 100 percent real. VYZR Technologies has took to Indiegogo to pre-sell the BioVYZR Powered Air-filtration Protective Shield where it can be had for $170. Welcome to the future.
All images courtesy of VYZR Technologies.
Source: designboom.