When headphones were invented, it heralded the new era of personal entertainment and now, we are seeing the same happening to video, where video headphones such as this one from Dashbon, dubbed Mask, aims to let you enjoy games and videos with privacy. So if you want to catch a movie or play games while taking public transport, this could be a brilliant way so you will not disturb the peace of others who may wants to catch a wink, or read a book. Like the Vuzix iWear 720 we have seen recently, Mask puts a big-screen display right before your eyes and in the case of Mask, it touts a 100-inch virtual projected image viewed from 8.7 feet away. That, my friend, is a frigging big-ass display, which is also a good reason to dive into the Mask, because most of us would not be able to afford a 100-inch TV, or have the space to accommodate one.
To ensure that both near and farsighted person can enjoy Mask without their glasses, Dashbon's video headphones has an optical system that supports diopter correction of +2 (for farsighted vision) to -6 (for nearsighted vision) and interpupillary distance can be adjusted to achieve perfect focus. As a pair of headphones, it promised high-fidelity sound from its 40mm neodymium drivers, though there's no wireless magic here; instead, it uses the good'ol 3.5mm audio cable for audio streaming.
Other details include a resolution of 1,366 x 768 per eye, 45-degree field of view, a built-in rechargeable lithium polymer battery that offers up to 4 hours of movie playback, and HDMI input video supporting up to 1080p resolution. Dashbon is currently running a crowdfunding campaign on Indiegogo where early backers will be able to pre-order one for $319 and up, with shipping estimated to happen in October 2015. Keep reading for a product pitch video.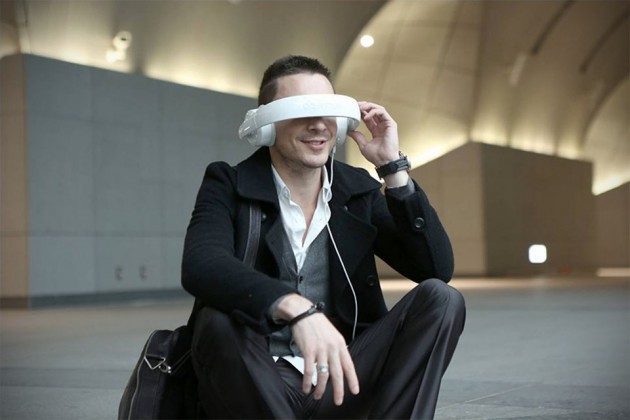 submitted via TIP US page.