Entry-level is hardly the word that apply to supercar, but here it is the McLaren "baby" supercar, the 570S Coupe, which happens to be the British luxury sports car maker's entry-level model. The 570S falls under the firm's Sports Series, which joins the Super Series and Ultimate Series "to complete the three-tier McLaren range." Taking on a classic sports car configuration, the 570S boasts a mid-engine, rear-wheel drive layout and is built around a unique carbon fiber MonoCell II chassis. At its heart is a 3.8L V8 twin turbo engine which, as the model name indicates, puts out 570PS or 562 hp. Peak torque comes in at 443 lb-ft (600 Nm), which can be experienced between 5,000-6,500 rpm range. The spritely engine is mated to a seven-speed SSG gearbox, which put the power to good use at the rear wheels, while standard-fit carbon ceramic brakes peeking through newly designed range of forged alloy wheels, provides the stopping power.
Contact between the tarmac and the wheels are facilitated by Pirelli P Zero Corsa tires, 225/35R19 up front and 285/35R320 at the rear. According to the official press, the 570S is destined as a daily driver, but really? It could be a chore climbing in and out of the vehicle several times a day, everyday, but then again, if you can afford it, why not? In any case, the carbon fiber MonoCell II chassis is supposed to provide "improved ingress and egress from the cabin", so I guess it shouldn't be too bad, right? The bodywork features a "shrinkwrapped" design comprising of flying buttresses to optimize aerodynamics and up the downforce. This sexy beast tips the scale at 2,895 lbs (1,313 kg), thus resulting a power-to-weight ratio of 434PS per ton, which also enables it to make the century sprint (0-62 mph) in mere 3.2 seconds, while hitting the 124 mph (200 km/h) mark only takes 9.5 seconds, before it finally maxed out at 204 mph (328 km/h).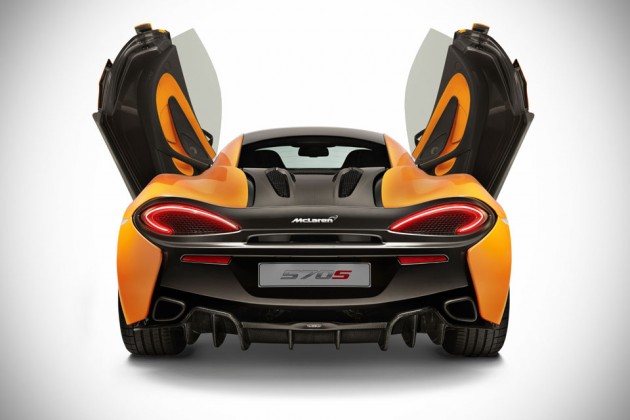 Aesthetically, has a front end that resembles that of the 650S. Not surprisingly, cos' McLaren also said it them that it has the "McLaren 'face' seen on models in the Super and Ultimate Series." Other exterior and performance highlights include bespoke aerodynamic package, ultra bright LED headlamps, sculpted hood which channels airflow over the front wheel arches, intricately designed dihedral doors, LED light blade rear lamps, aluminum mesh over engine compartment, twin exhausts, rear diffuser, newly developed suspension system with independent adaptive dampers and anti-roll bars, and three driving modes (Normal, Sport and Track). As for the cabin, leather can be found wrapping the sports seats, as with the dashboard and steering wheel.
Since day-to-day usability is a priority, the cabin also boasts extended stowage space in addition to the 150L available in the front luggage bay. You can also expect a full infotainment system, comprising of an all-new TFT digital instrument cluster, a seven-inch IRIS touchscreen with integrated climate control, Bluetooth connectivity, DAB digital/SRIUS satellite radio, and McLaren Audio four-speaker system. As for the price, it is not made known yet, but it will be probably be announced at its global reveal at New York International Auto Show on Wednesday, April 1, 2015. Keep going for a few more look at McLaren's newest addition.