"The world of concept cars is somewhat elitist. But this time we wanted you to be the driver (of a concept car)," said Peugeot Design Chief, Gilles Vidal. Whether you wake up everyday to caviar spread or just an ordinary folks who rub shoulders with others on a public transport, Peugeot latest supercar is yours to drive, well, virtually, that is. And also that's provided you have a Playstation 3 and a copy of the Gran Turismo 6 game. So, yes. It's another Vision Gran Turismo to join the growing list that has already been filled by the likes Mercedes-Benz, Alpine, Chevrolet. Peugeot is the latest to join the 15 or so Vision Gran Turismo lineup and like the rest before it (with the exception of the MINI), Peugeot Vision Gran Turismo's design is as bold as it can gets and it also has an unworldly performance that we somehow suspect could only exist in the virtual world.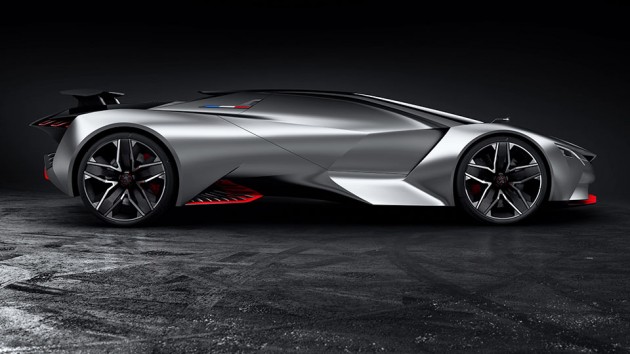 Powered by a 3.2L V6 turbocharged unit, Peugeot's VGT makes a cool 875 bhp which is put to good use on all four wheels via a six-speed manual gearbox. And believe it or not, that's not the best part yet. That power is consummated by an incredibly light weight of 875 kilograms (1,929 lbs), resulting in a 1:1 power-to-weight ratio. This enables the Peugeot VGT to rocket from standstill to 62 mph (100 kph) in a scant 1.73 seconds. That's faster than a typical Formula 1 car which usually makes a little of 2 seconds. I know. It's insane number and likely to be remain sane only in a game. According to official words, the in-game car also benefit from ventilated Brembo carbon disc brake all-round (380mm front, 337mm rear) as well as super responsive steering.
Last but not least, a low-profile monolithic silhouette, sculpted to cut through the air, rounds up this virtual exotic supercar package. No word if Peugeot will do what Nissan did, by producing a real prototype, but as far as the digital version goes, it will be realised as part of a free update for Gran Turismo 6. Keep going for a trailer video of the Peugeot VGT.