In the world of game consoles, there is little doubt that Xbox One and Playstation 4 are the champions. We hardly know anyone who are a fan of both, but in case you are, then you will probably have both consoles and in such instance, you will have to admit that's kind of space consuming. No? Well, that's probably what modder Ed Zarick's customer thought so too, else why would he or she commission the modding guru to turn a PS4 and a Xbox One into a laptop? Note we said a laptop, which means two brand of consoles packed into one portable device. So yes, Ed has done it again. First, he turned a Xbox One and then a Playstation 4 into laptop, and subsequently packed two generations of Xbox into one laptop, and now this: a 22" laptop known as PlayBox that has both a PS4 and a Xbox One squeezed into it. Probably not something Sony or Microsoft will be particularly amused by, but who cares if it can be done?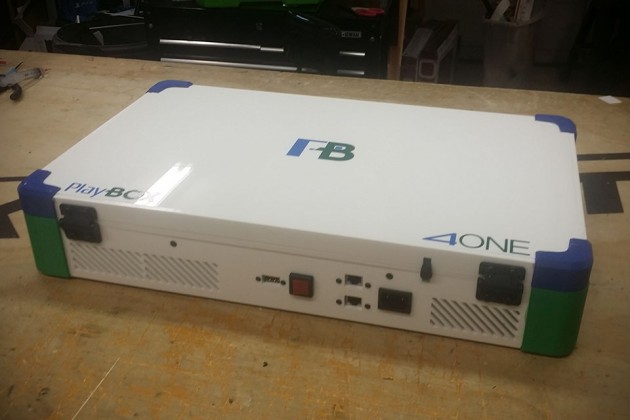 The PlayBox is perfect for one) you have limited real estate on your TV console, and/or two) you love gaming everywhere else except your home. Like Ed's previous mods, the PlayBox is outfitted with a 22" Vizio display and according to the guru, everything works like a charm, but it does have its fair share of compromises, such as the lack of USB ports for the Xbox One, for example. Other than that, the Ethernet ports are still available and functioning, and so are the WiFi and HDMI output. But the point is, it works and that's pretty awesome in any console gamer's books. As before, only one unit can be powered up at any given time, and hence there is only one power cord. Your mood for PS4 or Xbox One is just a flip of a switch, which can be found at the back of the unit. Whichever you choose, a smart HDMI switcher within will make sure your choice gets the right to the display. All you have to do is power up and ready to play.
So where can you get one? Unfortunately, you can't. Bummer, I know. This particular unit was a prototype made for Ed's customer and it is not for sale. However, if you are so adamant in getting one, you can always beg Ed to custom one for you, but be prepared to pay pretty penny cos' such an endeavor is a costly one. Video after the break.