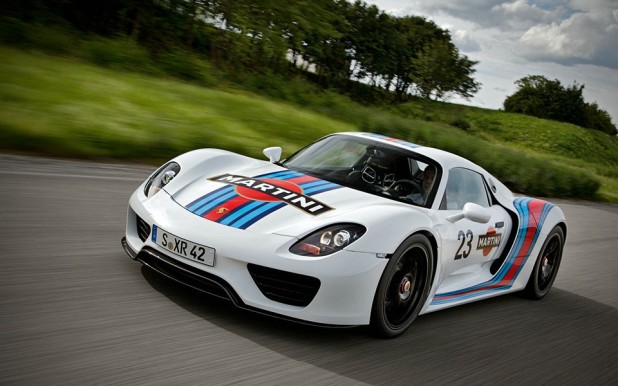 Porsche 918 Spyder Martini Racing | US$tba | www.porsche.com
it is typical for race car lovers to dress up their rides, complete with racing liveries, after their favorite racing car. speaking of racing liveries, two of them are arguably the most iconic: the Gulf Oil Racing and Martini Racing. if you have a penchant for the latter, then you will probably be thrilled by the Porsche 918 Spyder Hybrid Martini Racing. fans of Martini Racing and Porsche alike will fondly remember the collaboration between these two marques that stretches as far back as the late 1960s and the signature red, white and two-shades-of-blue racing stripes that have adorned several of the Stuttgart automobile maker's most memorable race cars, including the 908, 917, 936, as well as the 911 RS and RSR models. Porsche has once again gotten the nod of Swiss firm Bacardi & Company, owner of the Martini brand, to put the legendary stripes on its greenest machine, the 918 Spyder.
if you don't already know, the 918 Spyder is the Stuttgart-based auto maker's first hybrid beast driven by a 4.6-liter V8 engine, supplemented by one hybrid module and an electric unit on its rear and front axle, respectively. the three units combines to give this tree-hugging ride 770 ponies (574 kW) and propels it from standstill to 100 km/h (62 mph) in under 3 seconds with a maximum speed of 325 km/h (202 mph). other features include a carbon fiber reinforced plastics monocoque body, electromechanical power steering, multi-link rear axle with adaptive electromechanical system for individual rear wheel steering, hybrid brake system with adaptive recuperation and ceramic brake discs, mains-compatible 6.8 kWh lithium-ion battery, and a pure electric range and top speed of 25 km (16 miles) and 150 km/h (93 mph), respectively. so is this the answer to a guilt-free racing? you bet it is.
no word if consumers will be able to reap the benefit from this collaboration but according to World Car Fans, this Porsche 918 Spyder Hybrid Martini Racing will be "the only model from Porsche that will be sold with the fully-licensed paintwork." regardless, we shall keep our fantasy alive with some imageries after the break.