We have featured a handful of solar chargers in the past, but Solartab, a successfully funded Kickstarter campaign, is something else. Well, it is solar charger, alright, but this little guy here stands out as one that is extremely sleek, or sexy, if you will. While its iPad-like size may draw some disapproval, but the size is for good reasons. For a start, it has a generous real estate for 5.5W solar panels to capture the free energy Mother Nature has to offer and under its beautiful aluminum, very Mac-like enclosure it packs a lithium polymer battery that touts a whopping 13,000 mAh capacity, ready to be charged and used whenever and wherever you need.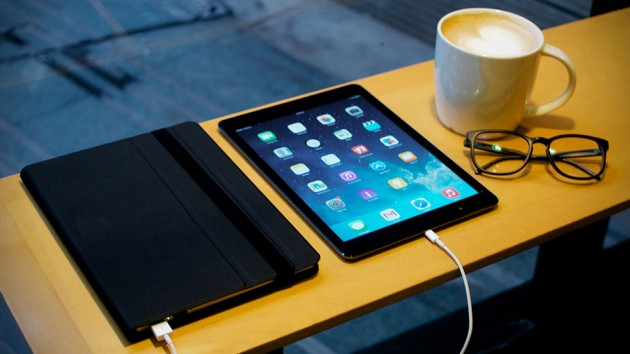 It boasts duo USB ports, each pushing out 2.1A/5V for charging your portable, USB-powered gadgets like your smartphone and tablet and on the device itself, it is equipped with enough LEDs to keep you in the know of the battery and charging status of each individual port. Even the micro USB input port which you can use to juice of the Solartab has one to indicate the device is being charged. And so yes, in case you are a little impatience and have access to an outlet, this gadget accessory can also be charged though regular outlet.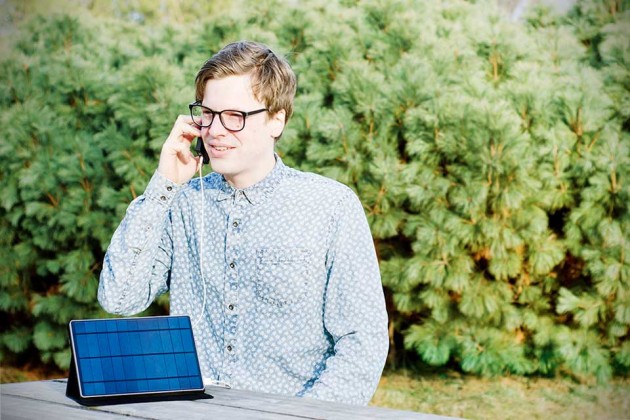 As a bonus, it even comes with an integrated cover, made of polyurethane, that keeps the solar panel protected during transit and also doubles as a stand to prop it up. With the stand deployed, the sun need not to be right above it; you can adjust the panel to face the sun according, so it can pick up whatever that fiery red planet radiates out more effectively and efficiently.
All told, this off-the-grid survival device measures 9.7 x 7.6 x 0.35 inches (246 x 193 x 9 mm) and tipping the scale at 2.65 lbs or 1.2 kilograms. Well, maybe it not exactly handy, but it is nevertheless an assurance that you device won't run out of juice when you are out in the wild which is what matters and besides, if you are packing for a off-the-grid adventure, we don't see why a lighter than iPad Air 2 device will be a burden. But, I think another big boon here is the price; it will only cost you $119. Keeping in mind, it is a solar charger that has an integrated battery pack.
UPDATE [July 24, 2015; 9:10AM PST] Good news, readers. The folks over at SolarTab wants you, our readers, to enjoy $20 off your order. All you have to do is to enter "MIKESHOUTS20" (less the quotation marks, of course) during check out. Sweet.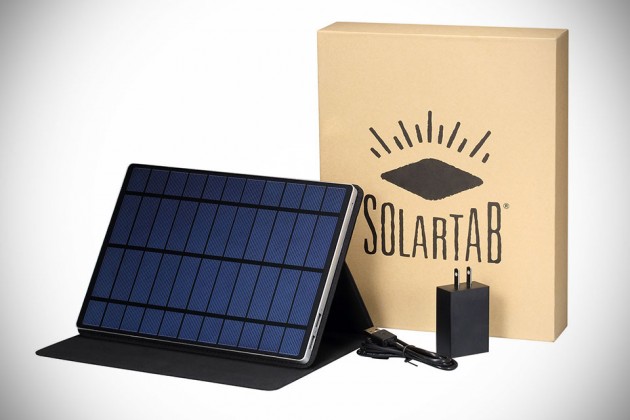 submitted via TIP US page.