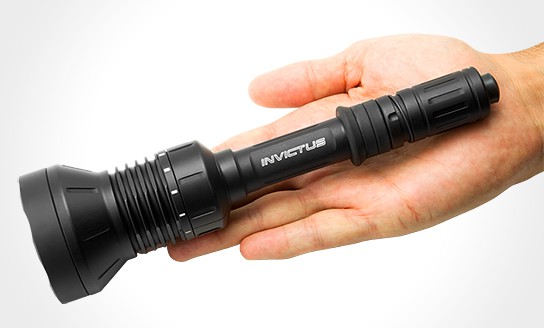 SureFire UB3T Invictus | US$695.00 | www.surefire.com
if you have already notice the price that i have posted under the image, let me assure you it is not a typo. $695 is exactly how much you will need to shell out for the SureFire UB3T Invictus flashlight. for that kind of money, you will get a gorgeous body machined from high-strength aerospace aluminum topped with military-spec hard anodized and an incredible 800-lumen beam that will had vampires running their way. beyond its pretty look, the flashlight features eleven settings, including an eight level of brightness, a strobe mode, a SOS beacon, and an OFF setting to prevent any accidental switching. the latter is critical for any tactical operation where accidentally lighting up is the last thing you want to do.
an essential tool for any possible vampire-infestation or even a zombie apocalypse, but it could be put to good use in the less horrific times like search-and-rescue operation, locating a take-out spot for your boat in pitch darkness et cetera. it's handy CombatGrip body makes it an idea flashlight/handgun technique for SWAT team. the SureFire UB3T Invictus runs off three 123A batteries which last up to 1.7 hours on its highest setting. if you don't look at the price, you will think you will need one.