Chinese communication giant, Huawei has dabbled in many things and now, it can add smartwatch to the firm's portfolio. The Huawei Watch, as it is called, is the outfit's first smartwatch to join its growing line of wearables. Announced at the Mobile World Congress (but of course), the Huawei Watch is a non-geeky take of a tech piece conceived by a team of experienced watch designers. Much like LG Watch R and Urbane, Huawei Watch takes on a round case design, along with a "sparkling" 1.4-inch circular AMOLED display, offering 400 x 400 pixels and 286ppi. Furthermore, it (the display) boasts a super bright 10,000:1 contrast ratio, which Huawei claims as the most vibrant Android Wear in the market.
The smartwatch packs over 130 components, complete with crown, frame and hinged made from high-quality and scratch resistant cold-forged stainless steel, which means, this little guy here is one tough nut. Well, maybe not the G-Shock kind of tough, but tough by Android Wear or dress watch's standard. I guess. Your desire for personalization is oversee by over 40 unique watch faces, plus a full range of straps of different materials and styles. Packed into its 42mm case (we wish it could be larger, like 46mm?) is a capable Qualcomm 1.2GHz processor, bolstered by 512MB of RAM and 4GB of storage. Other worthy mentions include scratch-proof sapphire crystal lens, built-in heart rate monitor, 6-axis motion sensors, Barometer sensor, and Bluetooth 4.1 connectivity, built-in microphone, and a 300mAh battery.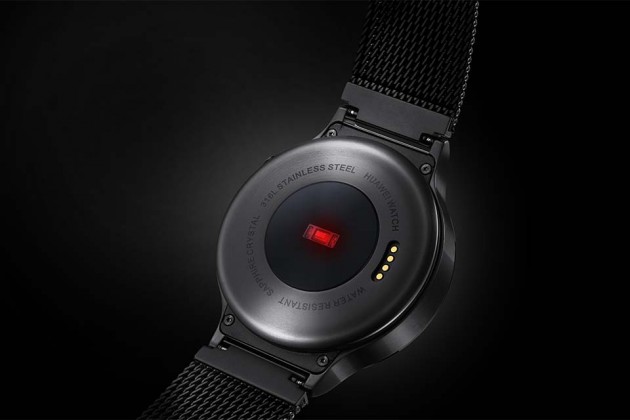 What Huawei Watch can do is pretty much what you can expect from a smartwatch powered by Android Wear, which includes, but not limited to, text, mail and social media notifications, access to Google Now via voice, and it also doubles as a handy fitness tracker and sleep monitor too. The best part is, it does everything you expect of a smartphone without looking to out of place during a formal event. Huawei Watch will be available in more than 20 countries, including U.S., U.K., Argentina, Australia, Brazil,Canada, Denmark, Finland, France, Germany, Hong Kong, Italy, Japan, Norway, Philippines, Russia, Singapore, South Korea, Spain,Sweden, Switzerland, and UAE. No words on the pricing and availability though.