What you see here is a wearable Bumblebee helmet from Killerbody. Killerbody is most notable for making shell or body for RC car, but since few years ago, they have also been recognized as a licensed costume/toy maker for franchise like Marvel's Iron Man and more recently, Transformers.
The Killerbody Wearable Bumblebee Helmet w/ Speaker is the latest iteration of the original Bumblebee helmet from last year and it sure has a lot to shout about. What differs this from the last version is, this is a VIP version that comes with a matching, sculpted display stand and a removable Autobot emblem which doubles as remote. More on the remote in a bit.
Beyond that, it is the same wearable Bumblebee helmet with voice command activation and deactivation of battle mode and turning the lights on the eyes on/off. It also has the same sound effects and plus, it also serves as a decent-sounding Bluetooth speaker.
There is a catch, though. Voice control of the gimmicks is in Chinese only. This is where the aforementioned remote comes. It lets you execute the actions even if you don't know Chinese language. We love how the buttons are cleverly integrated into the Autobot logo and how it docks to the display stand seamlessly.
As with the Transformers cosplay costumes we saw yesterday, the Killerbody Wearable Bumblebee Helmet w/ Speaker is also an officially licensed product. The best part is, you don't need to be in China to be able to buy this. It is available now on Killerbody web store at a discounted US$299 (U.P. US$329).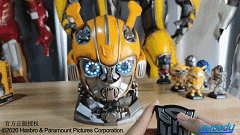 Images: Killerbody.