lets face it: today's smartphone battery life is anything but ideal and hence the need for a portable battery, or at least a charger so you can steal some electricity while waiting for your train. we'd go for the former as it allows us the power anytime, anywhere, but portable batteries have its own set of problem: it takes way too long to pack one with juice. sometimes it could take up to 12 hours to pack a large capacity portable battery, which is obviously not ideal especially when you are rushing out. this is where Pronto comes in. brought to you by the same folks who invented the PowerPot, Pronto features a groundbreaking, innovative circuit that enables it to pack enough juice for one iPhone 5 full charge in just 5 minutes. that's insane speed and if you ever use a portable battery, you know what that means. it is practically a dream come true especially on those last minute trip and you found both your device and portable are low on juice.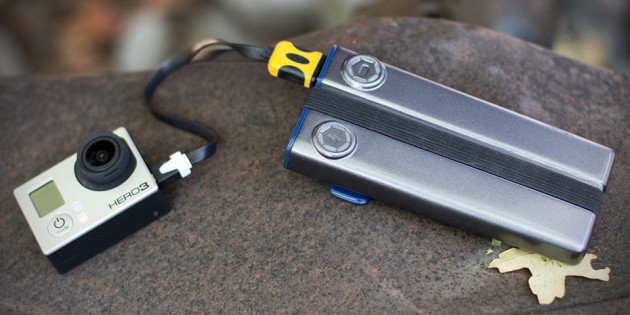 Pronto is being offered in two models: Pronto 5, packing 4,500 mAh and Pronto 12, which packs 13,500 mAh, both packed inside a super sleek, rugged hard-anodized aluminum enclosure that any style conscious geeks would be proud to carry around. when fully charged, Pronto 5 has enough juice to recharge an iPhone 5 three times, discharged through a high output 2.4A USB port while the Pronto 12 offers up to nine iPhone 5 charges. additionally, Pronto 5 also boast a 12V adapter for charging larger devices such as laptops, DSLR cameras, and even drone batteries and has not one but two 2.4A USB ports for charging two USB devices simultaneously. other common details include custom LED dials to show battery capacity and rate of charging, protective caps to keep water and dirt away from the ports, and an integrated nylon strap for holding down the protective cap, as well as doubling as a carrying band to hold your phone or secure the Pronto to your gear.
if you are all up for it, you can pre-order Pronto Fast-charge Battery from Kickstarter starting at $79. and don't worry about goals. the campaign have since roped in more than 1,800 backers and over 400 percent funded, and so, the Pronto is a go. though you will have to wait quite a bit for delivery, which is slated to be in May 2015.