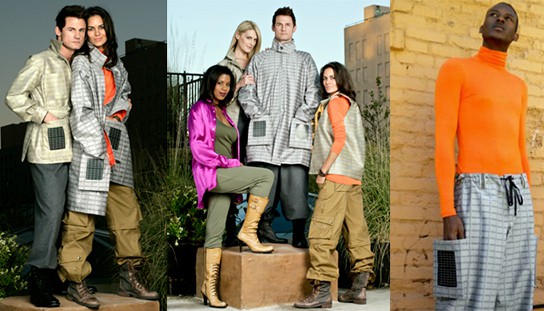 (image credit: Silvrlining) Silvrlining GO Collection Clothing | from US$920.00 | www.silvrlining.com
we are familiar with solar-equipped backpack, portable speakers, portable chargers and tents. what about solar-equipped clothing? well, it has been talked about but until now, we have not actually seen any being commercially available. Silvrlining has just launched its GO collection which is a clothing line that has photovoltaic panels integrated with the clothes.
[ad#Google Adsense-text-468×60]
the GO collection line includes GO Utility Vest, GO Director's Jacket, GO Myer's Top and GO Urban Cargo Pants. GO collection line of clothing are manufactured with lightweight, ultra soft and dry Ultrasuede materials. there are only two color options available, namely: stone grey cell and olive green cell. very befitting for a futuristic clothing. at least these colors are how the future was perceived in movies.
if you have insatiable appetite for electricity, additional independent small panel power supply is also available for purchase. optionally, there is also a booster panel that connects to the small panel power supply to hasten your charging time. it's a brilliant idea. there's no worrying about running out of juice for your clothing, just get yourself under the sun and you will have constant flow of power.
i wish they have beach shorts in the GO collection. so the next time when we hit the beach, we can charge up our gadgets too. it makes sense isn't it? we go to beach only when there's sun, thus ensuring we will be able to get charge up, i mean the shorts, the whole time. we can't be wearing a coat to the beach, right?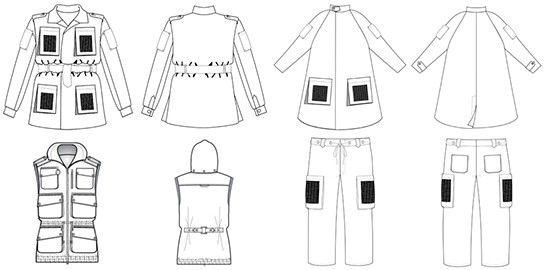 (image credit: Silvrlining)
via Inhabitat