At the first glance, Flicks by tech startup Dashbon (formed mainly by ex-Foxconn staff) looks like any pretty portable speaker system in the market, but this little guy here is not your typical Bluetooth speaker. It is a media streaming player, or more correctly put, it is a mobile entertainment system that lets you enjoy your favorite tunes and even catch a movie or two. Yup. You heard that right. You can watch movies with this thing too – thanks to a built-in 700 LED brightness ultra short throw projector found at the back of the speaker. The projector is outfitted with a combination of aspheric and spheric lenses that will project a 100-inch image at just 8.4 feet (2.5 meters), which means you don't really need a whole lot of room to enjoy a 100-inch movie experience, or even a smaller space if you don't fancy viewing such a large image.
The projection module is sourced from Texas Instruments which offers full-color RGB projection display at 1,280 by 800 resolution, supporting up to 16.8 million colors. However, the projector functionality is just half of the story. In addition to Bluetooth technology for wireless audio streaming, you will also find a HDMI port around the back that allows you to hook it up to any HDMI-equipped sources and this same HDMI port also supports streaming media sticks such as Roku Streaming Stick, Google Chromecast, as well as Amazon Fire TV Stick for even more entertainment options. As for audio delivery details were not clear, but the company said that under the hood, the Flicks is equipped with a pair of "precision-tuned full-range speakers", backed by a subwoofer with bass radiator driven by a dedicated amplifier.
It has a built-in rechargeable battery that provides up to 4 hours of movie playback, up to 28 hours of music over Bluetooth and provides up to 28 days of standby time. But that's the Flicks. The firm has another larger model, dubbed Flicks Range, which shares all the features as the Flicks but packs a massive battery that offers up to 8 hours of movie time, an astounding 56 hours of music enjoyment (over Bluetooth, naturally) and a whopping 56 days of standby period. Other spec-sheet details include auxiliary input port, headphone audio jack, and a powered USB port that could be use to charge your other mobile devices.
Oddly, this gadget uses Bluetooth v3.0 not the newer version, which means aptX is out of the question. Anywho, that doesn't make it any less desirable. You can find Dashbon Flicks Boombox Projector on Indiegogo, where it is having a flexible funding campaign where you will be able to score one, starting at $449. Estimated delivery is expected to happen in May 2015.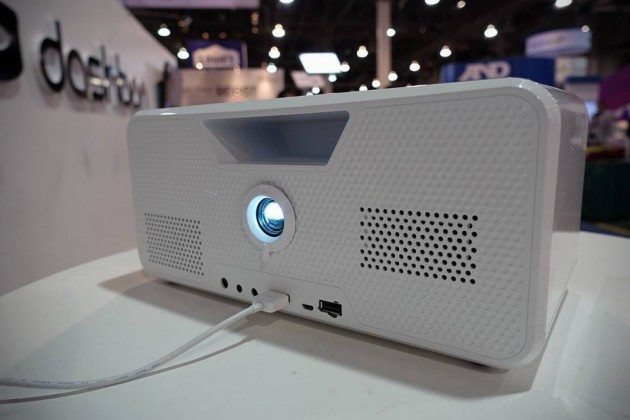 submitted via TIP US page.