Lately, Nissan has NISMO-fied a number of models in its lineup. We have seen NISMO treatment on more performance-orientated vehicle like the GT-R and hardtop 370Z, and 'softer' rides like Juke, Sentra and even the Pulsar. So it is not surprising that the Japanese automaker is also toying with the idea of NISMO-fying the droptop 370Z, which it has unveiled at the Chicago Auto Show on February 12. Nissan refers the 370Z Roadster Concept a one-off design study that combines the thrill of open-air motoring and the racing-inspired style and performance of a 370Z NISMO coupe. In simple terms, it is for those who wished for a high-performing Z without the top.
It is equipped with the same 350 horsepower 3.7L V6 unit found on the NISMO coupe model and appropriately boasts a host of NISMO exclusive features including NISMO-tuned suspension, aero kit, custom carbon fiber rear spoiler and Recaro seats with custom off-white Ultrasuede inserts in a NISMO-styled interior. Expect lots of hint (i.e badges) to remind you and everyone around, inside and out, that this ain't your ordinary droptop Z. Nissan will be showing off the 370Z NISMO Roadster Concept, along with other NISMO-tuned models including a 600hp Nissan NISMO GT-R, the 370Z NISMO, JUKE NISMO and JUKE NISMO RS and Sentra NISMO Concept. Unfortunately, it looks like Pulsar NISMO isn't making to the show.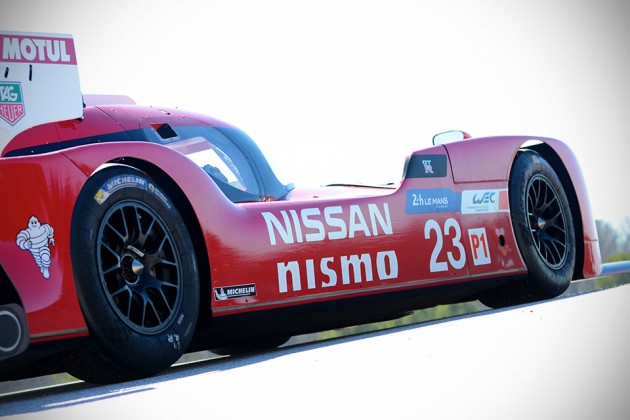 In addition to the 370Z NISMO Concept (which we think will most definitely see the light of production), Nissan also pull the wrap of its Le Man challenger, the GT-R LM NISMO, which is destined to go head to head with the world's best in the Le Man 24 Hours endurance race later this summer. And it is one of those rare LM race car that's actually front-wheel driven. Yes. You head that right. This uber sleek Le Mans contender from Nissan is a front-wheel-drive race car, which comes as a surprise to us and even to the industry too. Hybrid power is incorporated into the GT-R LM NISMO to augment acceleration.
On a related news, truck lovers will also be able to sniff out the Cummins 5.0L V8 Turbo Diesel-powered 2016 Nissan TITAN XD full-size pickup, which also be on display too. If you happen to be in and round Chicago, you can go check out these awesome vehicles at the 2015 Chicago Auto Show, which is held at McCormick Place from February 14 to 22, 2015.